Granite Couple on Black Stone Water Feature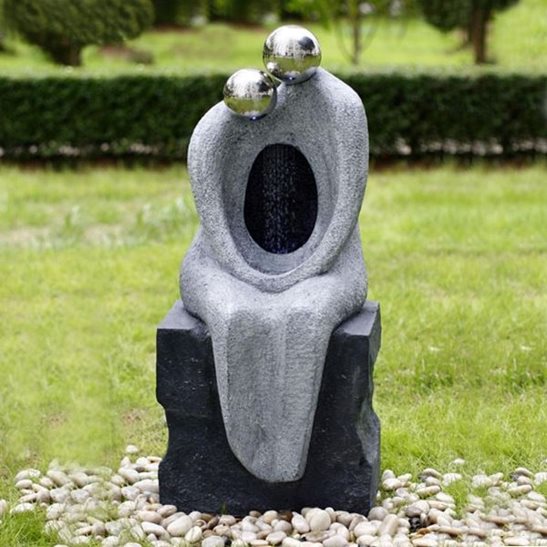 Description
Features
What's In The Box
Dimensions
Description
A bit about this water feature...Water cascades through the heart of this feature in a 'rain effect' style. The falling water is lit from behind by a set of clustered LED lights which adds to the romantic feel of this feature and also creates a dappled light effect and looks particularly effective at night. The contrast between the grey colour of the figures, the black of the stone they sit on and their stainless steel heads gives the feature a truly contemporary look.
Caring for your water feature...Fill the fountain with sufficient water to ensure the pump is well submerged. We advise that you clean and top up the water on a regular basis.Adding an algae prevention treatment to the fountain will avoid the build-up of algae and keep the water clean and clear. This can be added to your shopping basket as an accessory. Always shut off the power before cleaning and maintaining the pump. Never allow the fountain pump to run dry.It is not recommended to leave the fountain running constantly. We suggest turning the fountain on/off when required.
Preparing your water feature for the Winter...During the winter never allow ice to form in the bowls as the force of the ice forming will crack the bowls. Drain and clean all bowls etc. and apply a Fountain Protection Cover (This can be added to your shopping basket) or for total protection and to prolong the life of the paint finish, drain the fountain and store indoors. The pump should be disconnected from the mains supply, removed from the fountain and cleaned by following the instructions which come with each fountain.
Features
Built in LED lights which illuminate the water at night
Fully self contained garden water feature
Low voltage - much safer and also has a much lower running cost
Easy to unpack and assemble needing no tools
Complete with pump & 10 metres of cable
Adds a sense of calm and tranquillity to your garden
Made from durable resin-stone
The UK's number one choice for Aqua Creation Water Features
What's In The Box
Granite Couple on Black Stone Water Feature
Water pump & 10 metres of cable
1 set of Clustered LED lights
Dimensions
Height: 96cm / 37.8"
Width: 43cm / 16.9"
Depth: 35cm / 13.8"