Slate Three Tier Rock Cascade Waterfall Watercourse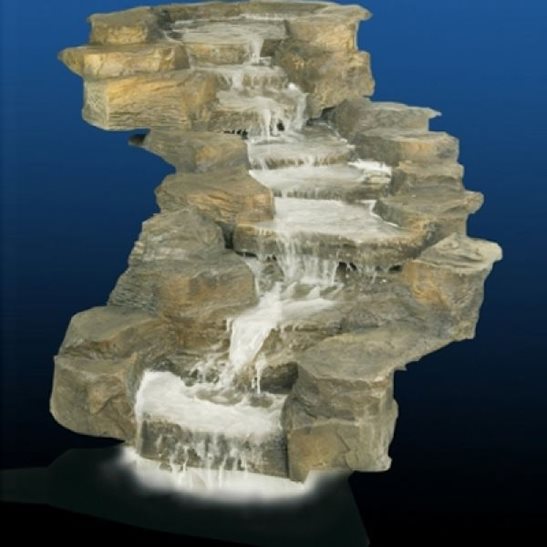 RRP: £599.00
£

449.00
SAVE: £150.00
Awaiting Stock - expected back in stock on 01 February 2018
Description
Features
What's In The Box
Dimensions
Additional Information
Description
A slate waterfall cascade incorporating a left bend, right bend and drop section. Very easy to install and realistic looking.These slate waterfalls manufactured in South Africa make installing a cascade in your garden as simple as it gets. The Rockways cascades can be easily integrated into a pond or pool.
Water is pumped from the pool at the bottom to the top of the cascade through a ribbed black hose before flowing down the three river cascades into the pool below creating a great visual and audio effect. Build your garden up around the canyon and blend into the garden environment - in a matter of hours the cascade will look like its been in your garden for years.
If you need any technical help or have any general questions about our water features please call our customer care line on 01226 388889 - we are open 7 days a week and here to help.
Features
Creates a lovely ripple effect cascade
Natural rock feel and look
Made from Ultralite polyurethane
Finished with a very realistic rustic slate appearance
Hand finished - each cascade is unique
Consists of FGRS36/FGRS37/FGRS38
What's In The Box
Slate Three Tier Rock Cascade Waterfall
UK Mainland Kerbside Delivery
Dimensions
Right Bend Section
Length: 90cm / 35.4"
Width: 80cm / 31.5"
Height: 20cm / 7.8"
Left Bend Section
Length: 100cm / 39.4"
Width: 90cm / 35.4"
Height: 15cm / 5.9"
Drop Section
Length: 85cm / 33.5"
Width: 80cm / 31.5"
Height: 24cm / 9.4"
Overall dimensions
Length: 225cm / 88.6"
Width: 118cm / 46.4"
Height: 75cm / 29.5"
Additional Information
| | |
| --- | --- |
| Material | Polyurethane |
| Brand | Rockways |
| Indoor / Outdoor Use | Outdoor use only |
| Guarantee | 10 Years |
| Product Code | FGRS36/FGRS37/FGRS38 |