Ordering your new Massarelli Water Feature
Trying to decide on the size and style of fountain can be quite daunting with so much choice.
Once you have decided on the right fountain for your garden we want to make the whole order process as smooth as possible! (…us Yorkshire folk like to do things right!)
What happens once the order has been placed?
Once the order has been confirmed you will be given an order confirmation number and within a few minutes should receive an email confirming your order as well. At this point if anything is wrong with the delivery information please do let us know.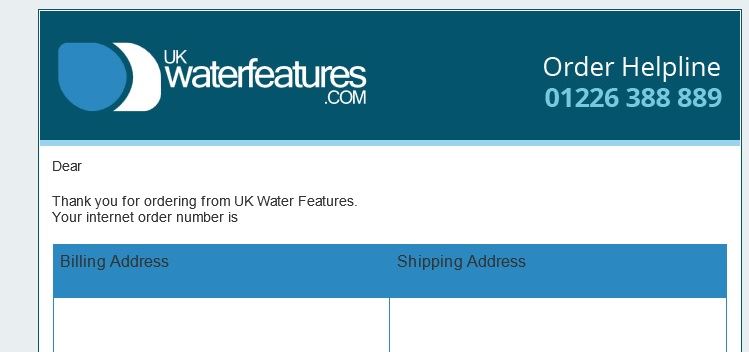 How long will delivery take?
We aim to deliver Massarelli fountains within 3-5 days of ordering. Due to the size and weight of the items our warehouse team need a few extra days to ensure the fountain arrives well packed and of course in one piece!
A member of our customer care team will call you prior to delivery to ensure a suitable date and also jot down any specific delivery comments.
As all our Massarelli water features come on a pallet, and delivery is to the nearest kerbside. The larger fountains come in pieces which can be carefully lifted from the pallet into position in your garden. Most of our delivery drivers are quite flexible though and will normally try and take the fountain as far as they can using a ''pump'' truck on solid ground (The fountains cannot be moved on gravel drives).

What do I need to do before the fountain is delivered?
Ensure that the fountain has a level, sturdy base and that a route has been cleared so you can carry it into position.
If you are planning on the day of delivery to put the fountain into place you will need to arrange for an extra pair of hands to be on site, and remember always bend your knees when lifting!
Is there anything else we need to know?
When unloading the fountain take care not to drop any of the pieces, try and have to hand some dust sheets or cardboard to rest the sections on whilst lifting into place.
Click here to go back to our Cast Stone Water Features page.