UK Water Features helps family out during DIY SOS big build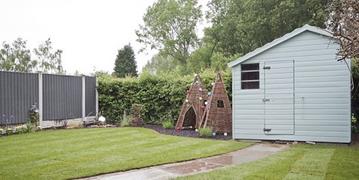 Towards the end of February we helped out a family in Worksop by donating one of our 50cm Sphere Water Features. Neil and Rebecca Smith have a young child who is autistic and Neil has also recently been made redundant, we thought what better way to help this wonderful family than by donating a water feature for use in the garden makeover.
Here is a image of the garden before the makeover by the BBC DIY SOS team...
And here is what the garden looked like after several days of hardwork, a new lawn, freshly painted shed and of course the addition of a modern stainless steel sphere water feature.
We are looking forward to helping out more families this year in transforming their outside spaces.
This article was written by Water Bucket Walter