Brighten Up Your Home and Beat the January Blues with a Feng Shui Water Feature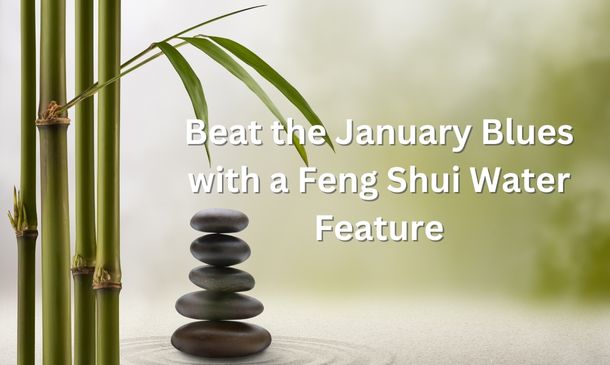 The holidays are an exciting and joyous time, but the pressure of starting a new year can bring on feelings of sadness or loneliness. One way to instil a sense of wellbeing in your home is by incorporating a feng shui water feature into your décor. Here's how you can relax and bring some peace and balance into your home!
What is Feng Shui?
Feng shui is an ancient Chinese practice that focuses on the harmonious relationship between humans and their environment. This is created by arranging buildings, objects and space in an environment to achieve an atmosphere of harmony and balance.
What are the benefits of Feng Shui water features?
A feng shui water feature can add a calming presence to any room in your home, creating a peaceful atmosphere with its soothing sounds and reflective properties. Feng Shui water features are designed to bring harmony to your space by creating an environment of tranquillity and relaxation. By incorporating these elements into your home, you will create an atmosphere of peace that can help reduce stress levels. In addition to its calming effects, feng shui water features are said to attract positive energy, known as "chi", into the space where it is placed. This chi helps promote feelings of wellbeing and contentment while helping you stay rooted in the present moment. All this can improve moods and increase productivity, making a feng shui water feature perfect for a home or office space.
Types of Feng Shui water features
There are many different types of feng shui water features, ranging from small desktop-sized models to indoor features to large outdoor fountains.
Oriental
A great way to echo the oriental origins of feng shui throughout your home is by opting for an oriental water feature. For an instant pick-me-up indoors, we recommend our Grey Buddha Sat In Lotus Flower thanks to its realistic stone effect which helps bring the outdoor in. If you're looking to adopt feng shui outdoors and create a zen garden, our Ganesh Elephant Water Feature is a stunning choice which will have a big impact.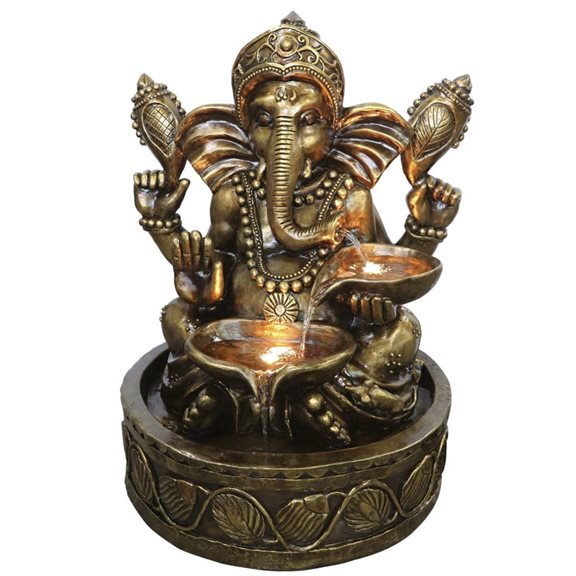 Stainless steel
Stainless steel is a chic and effortless way to bring sophistication to any space and introduce feng shui without committing fully to an oriental design. Our favourite designs are stainless steel spheres. For a simple spruce up that will go with any décor, we recommend our Orb With Stone Base or the Auckland Indoor Water Feature. Sphere water features are also a great way to add a soft babble of water that's not too intrusive. However, if you're looking to 'go big or go home' in your garden, we have a large selection of stainless steel water features, such as our 50cm Stainless Steel Sphere or our Athens Stainless Steel Tubes fountain. Both these contemporary designs feature LED lights, creating the impression that the features glow from within.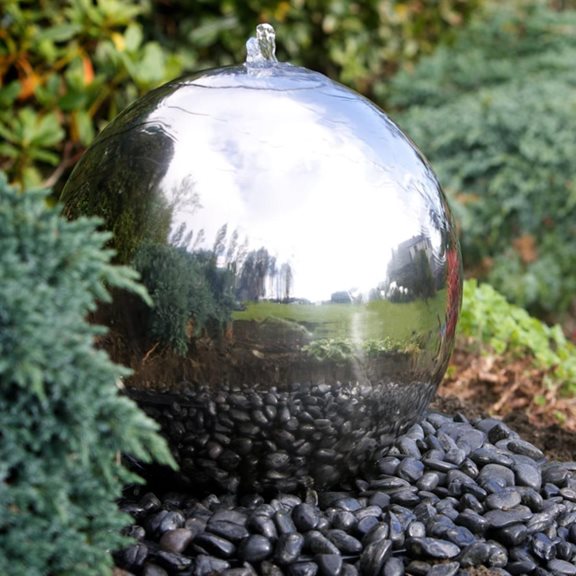 Spinning ball & vortex water features
Spinning ball and vortex water features can have a kaleidoscopic and mesmeric effect, making them a soothing option for your home and garden. What could be more calming that gazing at the swirling vortex of our Isernia Tabletop Water Feature or admiring the dancing colours of our Crystal Ball Tabletop Water Feature? If you're looking for a larger fountain that's more suited to a garden or patio, our Large LED Spinning Crystal Ball feature or Colour Changing Crystal Ball Feature are great for creating an eye-catching centrepiece.
No matter which type you choose, adding a feng shui water feature to your home will help create an atmosphere of relaxation and wellbeing and help you beat the January Blues this winter and beyond! Not only will a feng shui fountain provide a calming effect throughout your living space, but it will also be sure to add visual stimulation to any room or garden. Why let the winter blues get you down – adding a beautiful feng shui water feature may just be what you need!