Attract Wildlife With a Garden Water Feature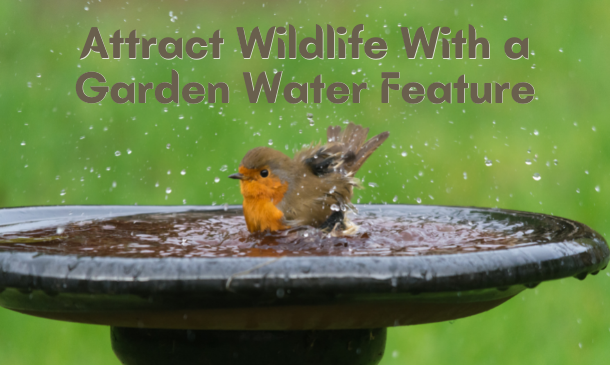 A water feature is not only a beautiful focal point to enjoy, but is also a fantastic chance to attract an abundance of wildlife to your garden. This is especially true at this time of year when wildlife it is thriving! There is a diverse range of species of British wildlife that will utilise your water feature, depending on the time of year. Adding water to your garden can be done by using ponds, birdbaths, and water features. Like humans, water is vital for wildlife to survive, yet is often overlooked, and birds are often more likely to visit your garden for water rather than your bird feeder at first. Using a pond, birdbath or water feature is a great way to significantly increase the chances of attracting new wildlife to your garden – binoculars at the ready!
A water feature provides an easy and effective way to attract birds to your garden. They need water to drink and for preening - when the bird cleans itself to remove dust, loose feathers, and parasites. Water also helps keep a bird's body cool so this is a good way to attract them to your garden especially in the summer months. The moving water of a fountain catches a bird's eye, and they can hear any dripping, sprinkles, or splashes that the water feature makes making a water feature an ideal addition if you're wanting to welcome more birds to your garden! Flowing water also stays cleaner and is less likely to accumulate parasites or bacteria that will harm the birds and other wildlife.
In our Outdoor Water Features range this year we have a new bird bath fountain, and with the added detailed of the birds on the top of the bowl, this seems a fitting choice! This water feature is also solar powered so perfect for adding to your garden for both you and the birds to enjoy over the summer months! Our Feathered Friends Water Feature is a wonderful choice for any traditional styled garden or patio.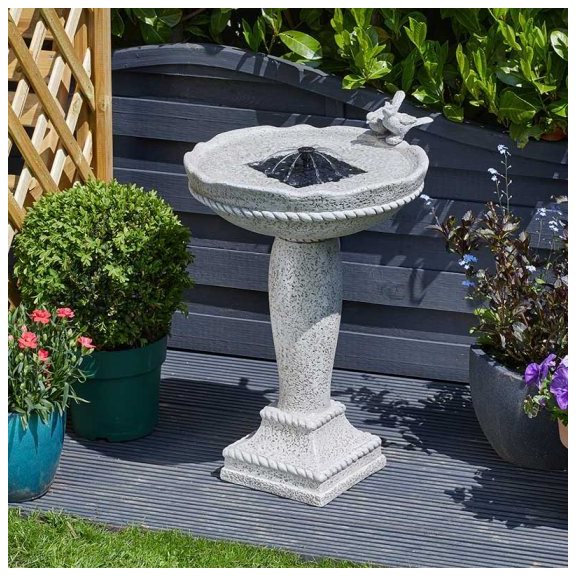 Another of our popular bird bath designs includes our Chatsworth Garden Water Feature. The smooth grey finish makes this ideal for both modern and classic gardens! This works in direct sunlight so simply place in the sunniest part of your garden, sit back, and enjoy.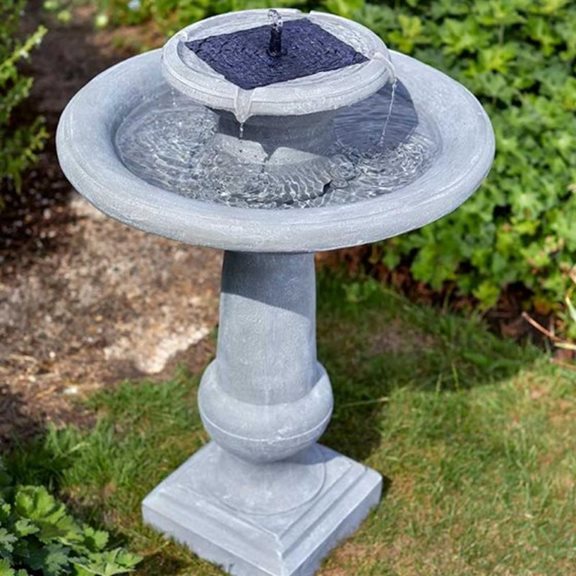 We have some great styles on offer in our Marble, Granite, and Slate collection including Grey Granite Babbling Bowl. This modern feature will bring ornamental interest to your garden as well as attracting wildlife! This is hand carved and finished from solid, natural granite giving your garden a real rustic feel, and birds will love perching on the edge to drink and keep cool.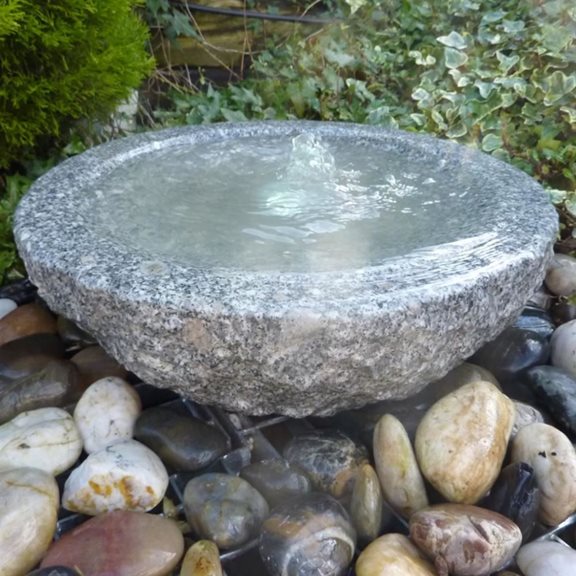 Another fantastic feature in this collection, that will serve an excellent purpose when looking to attract more wildlife, is our Babbling Bowl on Twisted Column. This feature is made from a unique rainbow sandstone, and like all the products in this range, is made from natural stone meaning you will be showcasing a truly unique piece in your garden!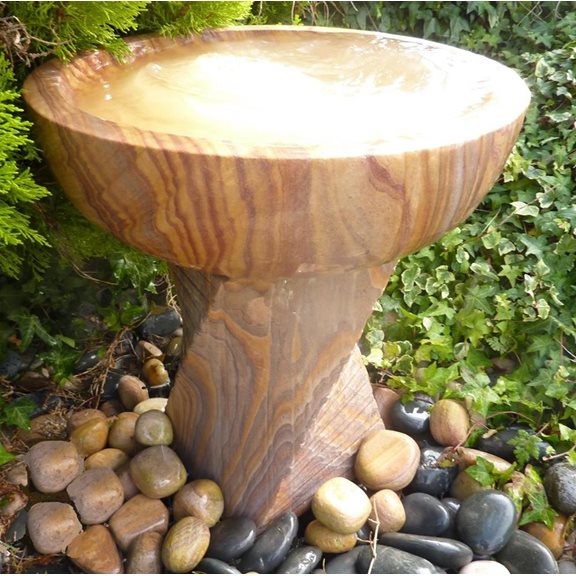 We think your garden birds will love this water feature too, our Bronze Lotus Bowl Water Feature. This also comes complete with a white LED spotlight so you can enjoy it all times of day! Perfect for placing on a patio too, the large bowl acts as a pond with an attractive fountain in the centre creating a calming atmosphere to help you to sit back and relax this summer.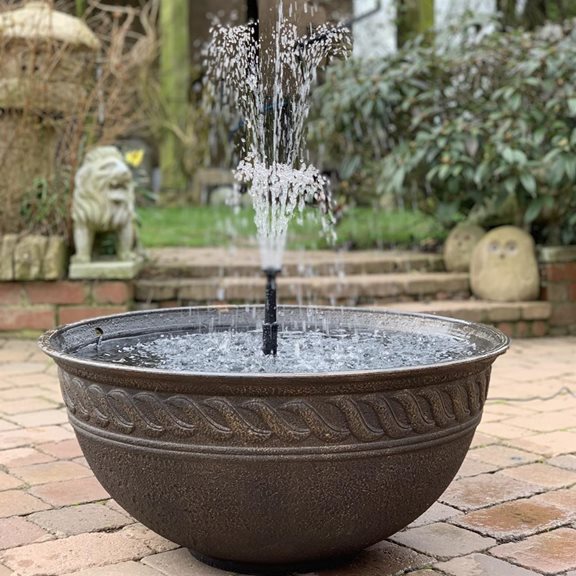 Adding a Pond to your garden will also attract birds as well as amphibians such as newts and frogs. However, you must ensure that one of the sides of the pond is slanted which allows the creatures an easy way out. Ponds also attract a whole variety of insects such as dragonflies, bees, butterflies, water spiders, diving beetles and more. This in turn also helps to attract the birds and small mammals as the insects provide a food source for them. A garden pond can easily be created by using one of our pre-formed ponds or can be created by digging out part of the garden and using one of our PVC pond liners.
The depth of your pond will affect the species that you attract, as some creatures prefer shallower or deeper waters. Smaller frogs and even hedgehogs will enjoy shallow waters, whereas deeper ponds may attract toads and newts. Ponds provide the perfect place for reproduction of many wildlife species. Frogs need ponds in order to reproduce and lay their frogspawn then tadpoles require the algae in the water to feed on. Newts and dragonflies use pond plants to lay their eggs on in order to reproduce, so be sure to include some of these when you create your pond area.
Here at UK Water Features, our Pond Liners are excellent value for money and come with at least a ten-year guarantee! They are available in a variety of sizes so there is something for everyone, and are highly resistant to punctures and tearing. Our pond liners are heavy duty so are perfect for creating a long-lasting feature in your garden.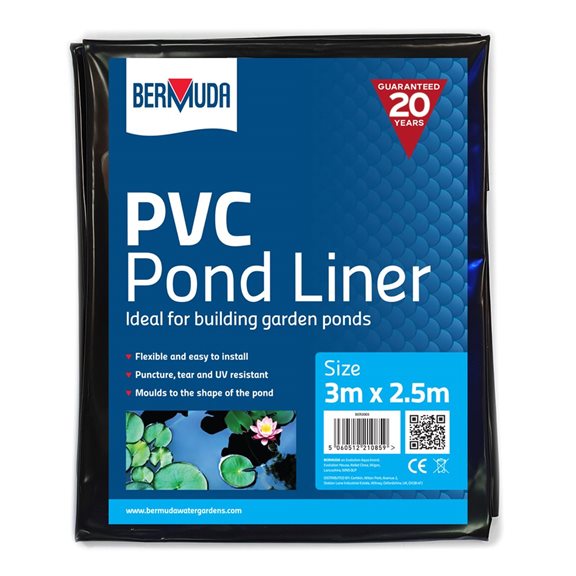 Our Pre-formed Ponds are also available in a variety of sizes to suit all garden shapes and can be easily installed with minimal effort. Made from tough, durable plastic these are a simple yet effective solution to help you create your dream pond, all you need to do is dig a hole, place, fill with water and you're good to go!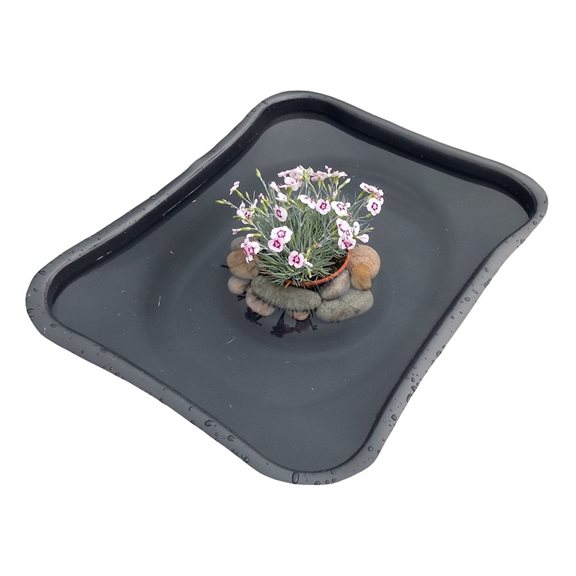 We hope this blog has given you some helpful information if you're looking to welcome more creatures and critters to your garden this year. Now that spring is in full swing and summer just on the horizon, be sure to check out our fantastic range of products at UK Water Features to get your garden in tip top shape!