Installing the Gloucester Bird Bath Water Feature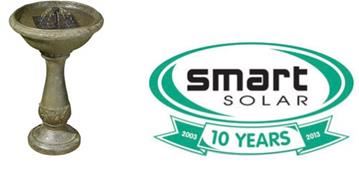 Its that time of year when the weather begins to improve and we can think about our gardens again.
Adding a solar powered water feature to your garden has many advantages. Here at UK Water Features we spend the time in putting together useful guides for visitors to our site to read.
This week find out how easy it is to install the Gloucester Solar Powered Bird Bath Water Feature, by Smart Solar who this year are celebrating their 10th Birthday, Happy Birthday Smart Solar!
Click here to read the 'Guide' and please keep popping back as we soon head into Spring we have plenty more exiting guides and blogs to share with you.
This article was written by Water Bucket Walter