Solar Powered Garden Features
Solar powered garden features can be a very simple yet very cost effective enhancement to your garden. Many people are wanting to enhance the look and general appearance of their outdoor living area, especially now that the weather is finally picking up this summer and we are expected to have a nice few weeks this August. If you have not had a chance to get out in your garden so far this summer and give it some TLC then there are some simple solutions that can drastically improve your garden within a few hours.
The addition of Solar Outdoor Decking Lights can bring your drab, winter worn deck back to life. If you are looking for a sophisticated and professional look then solar decking lights would be a simple way to lighten up your deck or patio area at night. With the warmer summer nights sweeping in, we are all wanting to get out there as much as possible. So when the sun does go down, we can still sit outdoors and enjoy the lovely weather. Maybe invite the neighbors round for a small BBQ. Our most popular set of decking is the Solar LED Deck Lights (White). With no wiring required, these four white solar deck lights are easy to install and perfect to illuminate decking, pathways and borders.
The benefits of installing deck lights is that they are solar, meaning that no wiring is needed! Through the day, your solar deck lights are charged by direct day light once the sun goes down the lights will then use the generated solar power to illuminate your pathway, patio or decking area. Not only are solar lights GREEN, they will also help reduce your electrical expenses as they require no electricity, amazing.
solar water features are designed to operate in climates that do not always have a continuous amounts of direct sunlight. There is nothing greener than allowing Mother Nature to power your garden water feature.
Purchasing a solar water feature with a removable solar panel allows the owner to place the solar panel in an area that receives significant direct sunlight even if the water feature itself does not receive adequate direct sunlight. This allows the owner more choice in where to locate the solar water feature within the garden.
By recalculating water, solar water features conserve water while also saving money. Gathering the energy of the sun to power the water feature allows the owner to constantly recalculate the water at absolutely no cost. By keeping the water moving, the solar water feature reduces algae growth and thus reduces the need for algae removal products. In summary, solar water features create a lovely and tranquil oasis while still being an entirely green choice for eco-conscious gardeners.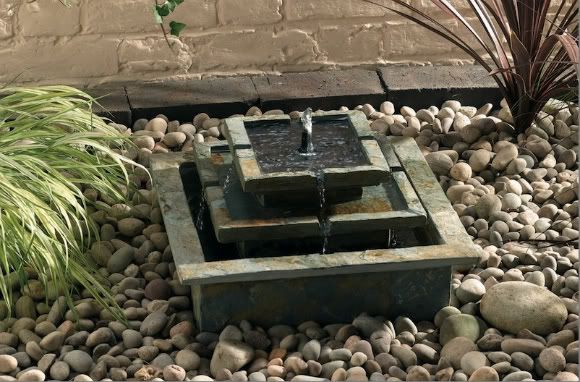 When installing any solar garden feature a small amount of planning needs to be put in place prior to installing any of the features. When installing a solar powered garden light It is a good idea to place the lights in an area where you know you get a good amount of day light. As they do not need constant daylight it is recommended to give the panels as much as possible to provide them with as much power as possible. For them to charge, they need light so it would not be recommended to place them in a known dark area throughout the day. Even though the lights will charge in a partially shaded area, they will shine brighter at night if they have received good contact with direct daylight throughout the day. Installation and maintenance efforts will also be significantly reduced as they require no wiring.