Stunning New Water Feature Unveiled In Our Home Town, Barnsley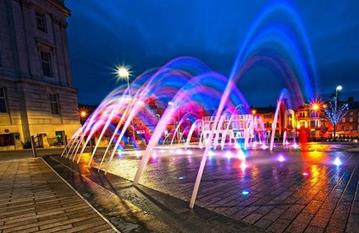 A fun and exciting water display is the newest addition to our very own town centre! Opened on Wednesday, right here in Barnsley the fountain has 30 nozzles, placed in three banks of 10 and emitting 30 jets of water all varying in size! The jets are illuminated by LED lights and can be programmed to create unique displays. There is an underground tank which holds a whopping 50,000 litres of water, which is pumped through the fountains nozzles at 30,000 litres per hour!
The Town Hall square and Garden in Barnsley town centre was subject to a fantastic overhaul this year and was officially opened in June but the fountain is the final stage of the astounding £1.9 million makeover! Barnsley's Mayor, Councillor Ken Richardson did the honour of the big switch on at a ceremony attended by councillors and many town centre representatives.
The unveiling of the fountain coincides with recently opened Experience Barnsley Museum and Discovery Centre in the Town Hall and will create an even more enjoyable surrounding for people to visit.
Local children have already been seen to be enjoying the feature, splashing about in the streams of water wearing willies and raincoats! Even this unpredictable British summer weather didn't put them off!