Transform Your Garden This Spring With a Water Feature!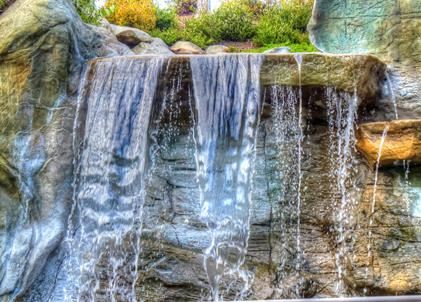 Our favourite time of year is here!
We're already seeing so many flowers blooming, lambs in the field and sun in the sky and we're just itching to get out in our gardens to get working on them!
Now the snow and wintry weather seems to be gone for good, we can't wait to give our gardens a bit of much deserved TLC. Whether that be trimming back our plants, giving the grass a good trim or adding some new decorative items, now is the time to get busy!
In this blog we look at how you can easily transform your garden this spring with a pond or water feature, to help getting your space looking gorgeous for the garden season 2018! Here we will share with you many of the fantastic types of water features and the different materials we offer, to showcase that we have something to suit all tastes and budgets!
Stainless Steel
Whether you have a traditional or contemporary garden, our range of Stainless Steel Water Features won't fail to impress you. This range is one of our most popular and includes stunning designs such as the 25cm Sphere and Mini Avon Stainless Steel Tubes pictured below.
Cast Stone
Our range of cast stone features are affordable, luxurious, weather resistant fountains that are designed to last! They are traditional yet stylish, and these fountains are manufactured both in the UK and USA from a unique cast stone, and are specifically designed and built to last a lifetime. We have a real variety of designs, such as our Petite Garden Fountain and our Petal Pool Fountain Feature.
Granite, Marble and Slate
These features are hand carved, luxurious and stylish, and the gentle sound of water running over stone is renowned for its calming properties. All granite and marble water features are designed to last a lifetime with minimal maintenance so you can enjoy it in your space for years to come!
We have lots of stunning designs such as our Rainbow Sandstone Wheel Mill Feature and our 40cm Rustic Black Sphere.
Polyresin
These are our highly popular polyresin water features! Ideally suited to both traditional and quirky gardens, our range of polyresin water features ensures there really is something for everyone! They are also are easy to move around the home or garden if you wish, and they cheaper than solid stone, so something to suit anyone's budget. We have lots of great designs such as our Oval Pouring Modern Outdoor Fountain or our 3 Ribbed Pots on Tree Trunk Feature pictured below.
Indoor Water Feature
Why not introduce a stylish water feature to the inside of your home? Indoor water features have many health benefits and are also particularly pleasing to the eye! Indoor water features are perfect in your home on a table top, sideboard or even on a TV stand! They are also perfect for offices, restaurants and store fronts, they are incredibly versatile! Each indoor water feature comes with all you need to get up and running - simply just add water and enjoy! Check out designs such as our Calvera Ribbed Ball Feature or our Akra Stainless Steel Feature.
Ponds
Create your perfect water focal point with our range of quality pond products! From pre-formed ponds and accessories to pumps, lights and ornaments, our UK Water Features website have everything you need to get your new pond up and running in no time!

As you have seen here, a water feature does not always have to be an Olympic-size swimming pool or a pond full of Koi carp. It can be something more discreet - but equally as attractive. Close your eyes, listen to the sound of the trickling water and you could just as easily be in the Caribbean! So why not choose one our fantastic water features from here at UK Water Features to help transform your garden this year!