Uk Water Features - Adding a Pond to your Garden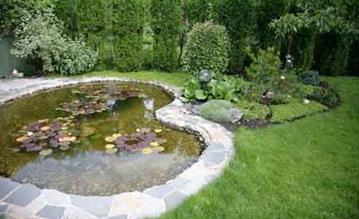 If you are someone who is interested in designing and maintaining your own landscapes and gardens, adding a pond to your garden is worth considering. A garden pond is a striking addition, offering a relaxing and soothing ambience to your outdoors. A garden pond or any water feature can definitely become the focal point of your garden and take pride of all the compliments that you receive from the guests. If you are planning to add a pond to your garden, you need to look into certain considerations, such as the type of garden pond, the location and size of the pond, and any additional water features such as fountains that you may want to add. This article intends to explore the advantages and features of pre formed ponds, a very popular and easy to installtype of pond.
Pre formed pond – an Ideal Choice for Beginners
A pre formed pond is often preferred by those who want to install a pond for the first time. Pre formed ponds are pre-made plastic or fiberglass ponds that you can simply insert into the ground after digging the ground in the shape of the pond. Compared to other forms of garden ponds such as pond liners/liner ponds and concrete ponds, adding a pre formed pond in your garden involves less labor costs, a shorter construction period, and reasonable maintenance expenses. A pre formed pond, in simple terms can be described as an instant and quick to install starter pond. They are available in a variety of sizes and shapes such as square, rectangle, circle and a range of other organic shapes.
Preformed ponds are favored by many house owners since they are the easiest way to bring a water feature into the garden or patio. Digging the ground of the garden in the shape of the pre formed pond shell is only the major work involved. All other necessary attachments and accessories are usually available with the pond kit making the job easy. Rigid liners with plant shelves come integrated with the pond. A pre formed pond kit may also contain a pump, a filter, water conditioners, etc. Adding a pre formed pond to your garden is not only easy but is affordable too. Since these ponds are highly durable and weather resistant, there is less tension about possible damage or other issues.
Before making your final choice regarding pond type, analyze what you expect from a garden pond and identify the reasons for your desire to install one in the first place. You may wish to combine a pre formed pond with a rock effect cascade or waterfall to add another element to your overall look. Whether you choose a geometric shape for a simple modern look or an organic shape with plants to go for a more naturalistic look there is a preformed pond to suit your needs. Defining your intention will itself solve your confusion regarding selecting the right type of garden pond.