UK Water Features - Outdoor Entertaining & Cooking Alfresco!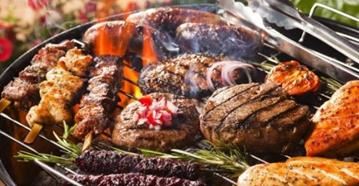 When we think about cooking alfresco, barbecues (BBQ) must be the first thing that comes to mind, where family and friends relax around a grill awaiting finger-licking good flame-grilled food. Barbecue aficionados just wait for the summer to organize an outdoor entertaining event by cooking outside and inviting friends over for a beer. Barbecue is a soulful and humble foodstuff that often evokes in us a sense of community.
Outdoor kitchens are in great popularity among enthusiasts of cooking alfresco. In order to entertain friends with great food and lots of memories, your outdoor kitchen needs to be equipped with a good quality integrated BBQ. There are numerous barbecue grills available that suit all price ranges and requirements. Investing in an excellent BBQ with a big grill is worthwhile for creating enhanced gastronomic outcomes. A gas barbecue or masonry barbecue are good options that you can consider and below are some of their features and advantages.

Masonry Barbecue – More Than Just A BBQ
A masonry barbecue is best suited for those for whom alfresco cooking is a way of life. Usually constructed from stone, bricks or any other first-rate raw materials, masonry barbecues are robust and durable. Both charcoal and wood can be used in the fireplace to create excellent smoked or grilled food. A masonry bbq by its design and structure can become a permanent garden fixture, even though it is moveable and detachable. Considered as a long-standing and dependable barbecue, the masonry variation can be placed as the hub of your garden or can even be treated as a second kitchen. The waterproof and windproof characteristics of masonry barbecues are added advantages and they can also be used as an outdoor heater. Since these bbqs come equipped with sufficient countertop space for preparation, the master chef can enjoy a contented cooking experience. A laid back, fun and social approach to cooking can be aptly met with nice masonry barbecue equipment.
Gas Barbecue – More Convenient Option
This relatively new barbecue version is getting increasing popularity in the barbecue world. Barbecue fanatics often argue on the best choice bbq and never reach a conclusion on whether charcoal or gas bbq is the best. Both charcoal and gas barbecues have their own pros and cons and hence the choice should depend on your taste and budget preference. Masonry barbecue campaigners using charcoal as fuel argue that charcoal burning lends a distinctive taste to the cooked meat. But a gas barbecue will certainly win over the convenience and easy to clean aspects. This relatively cheap bbq equipment can be ignited at the simple touch of a button, to start cooking in seconds. You can even control temperature with a dial and for longer periods of time, which is not possible with a charcoal bbq. Cleaning up is also easy since there is no messy smoke residue.
Before investing on a masonry or gas barbecue, it is prudent to contemplate your options and personal preferences.
UK Water Features has a wide range of barbecues and barbecue accessories for all your outdoor grilling needs.