UK Water Features - Transforming outside space into a living area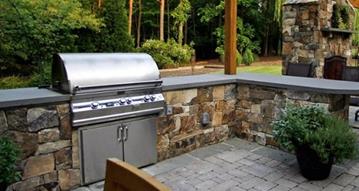 Are you planning to convert your boring courtyard, patio or outside space into a functional and relaxing living area this summer? There are numerous ways in which you can transform an outside space as a useful extension of your home. Designing outside space can be exciting and you can insert your creative imaginations into the process. Chic furniture and nice design elements can be smartly integrated to make the living space comfortable and inviting. Open the doors and bask in the fresh air in your transformed outside space designed with utmost care to provide a living area that is as comfortable as the inside of your home. The article discusses some of the vital pieces that you need to incorporate into the transformed exterior setting to get the best out of it.
Garden furniture
When you are buying furniture pieces for the outside living space, you need to select those that are elegant enough to be inside and durable enough to withstand certain exterior factors. You can choose garden furniture ranging from tables, chairs, recliners, hammocks, awnings, gazebos, multi-purpose benches, swings etc. that add character to the space. The most important factor that you need to be careful about garden furniture is that they need to be comfortable and durable and should serve different purposes depending on the occasion; it can be a friendly chat, a relaxing time, dining al fresco or playing time for kids. Also take into account the space of your garden patio. You will be amazed at the variety of garden furniture that comes in a range of type, style, color, and textures. You can opt for wood, glass, plastic, stone or metal furniture pieces according to budget and taste preferences. Wicker garden furniture is a very popular item that can add a distinctive style to your outside living space. Do not forget to make seating comfortable by adding soft cushions.
Garden ornaments
Garden ornaments are essential in adding the much needed elegance and adornment for your backyard, a deck or patio that has been tastefully converted as a practical living space. Garden ornaments can be graceful garden statues, fountains, planters, pillars, pedestals, columns, water features, balustrade and much more. You can even create a fresh and artistic garden architecture in ornamental patterns to accentuate the splendor of your garden. You can buy beautiful stand alone planters and garden vases to add glitter to the outside space. Charming flowers flowing over from these planters can be a pleasant sight that you can relish in your leisure time. Garden animals and garden gnomes are some other popular garden ornaments.
Bird baths
Placing bird baths in your garden is an excellent idea to brighten up the space. Bird baths are indeed a type of garden ornament that can attach a distinctive stroke of natural charm to your landscape by attracting beautiful birds into your garden. If you are planning for a nature-focused theme for your garden living space, a bird bath is a must-have.
Transforming outside space into a living area remember to design it in such a way that it would reflect your own personal taste and individual style. You can rely on easy and affordable ways to make the area a fabulous space.
UK Water Features has a wide range of decroative garden products including an exclusive range of stainless steel water features by Tidal.