Create your own realistic water cascade this Spring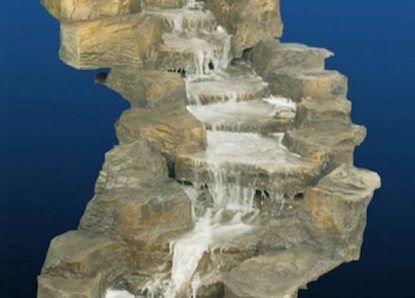 Rockways have been on the market for over 25 years and are known as one of the top market garden design leaders. Each and every one of their products are handmade making them all have a unique finish, not one of their products are the same!
The totally natural looking slate cascades are manufactured in South Africa and blend in perfectly in any garden. They have a natural rock feel and look and they are finished with a realistic rustic slate appearance. They create beautiful long or short winding waterfalls across your garden.
The FGRS36-39 design featured in the image above, incorporates a left and right bend and a drop section; these can be put in any order as they come as three separate pieces. This design is very easy to install and creates a lovely ripple cascade.
Water is pumped from the pool at the bottom to the top of the cascade through a ribbed black hose before flowing down the three river cascades into the pool below creating a great visual and audio effect. This rock fall can be built around any environment in your garden such as plants to attract wildlife or just for a new touch to the garden. In a matter of hours the cascade blends in so well that it will look like it has been in your garden for years!