Cretan Pot Water Features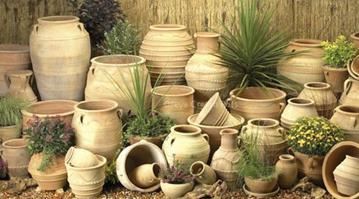 In June our Cretan Pot Water Features feature in 'The Choice Magazine'.
The range of Cretan pots are exclusive to UK Water Features and are all hand thrown in the Cretan hills using techniques dating back hundereds of years. Each pot is hand thrown and kiln dried. Once in the UK the pots are adapted locally and made into stunning self contained water features.
Our Cretan pot water features are also affordable with prices starting from as little as £99. If you are looking to add a real statement piece to your garden the most popular larger Cretan pot is the Pithos 100cm Cretan Pot Water Feature.
This water feature comes complete with a large reservoir which can be buried in the ground and a heavy duty galvanised steel grid which safely supports the pot.
A large pump is housed within the reservoir and submerged in water pumping water up the centre of the pot and bubbling out at the top before overflowing, shimmering down the sides and finally back into the pool below.
Add the finishing touches to your Cretan pot by illuminating it from the base upwards with a set of low voltage fully waterproof pond lights. I think we all agree this pot looks stunning at night.
UK Water Features the number one choice for outdoor and indoor water features online. A friendly Yorkshire based company delivering hundereds of products everyday to customers homes across the UK.