Love Your Garden - Granite & Stone Water Features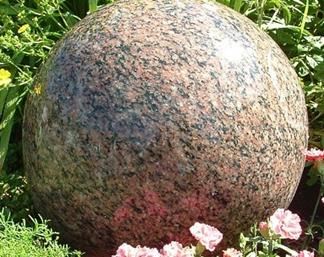 In this week's episode of ITV's 'Love Your Garden' Alan and his team transformed a family's garden in southern England into a modern outdoor living space.
Of course no garden makeover would be complete without the addition of flowing water. In this garden the team created a bespoke self-contained water feature using a heavy duty pebble pool, galvanised grid, fountain pump and a traditional millstone.
The Carnoustie Granite Sphere Water Feature £339.00 (Product Code: 16109)
Installing a water feature like this into your own garden is relatively straight forward.
Dig a suitably sized hole in the ground that will comfortably fit the plastic reservoir. Ideally if the feature to be placed onto the galvanised grid is going to be really heavy (solid stone) we would recommend adding a simple layer of concrete into the base first for added stability and peace of mind.
The pump and piping can then be placed into the pool before placing over the galvanised grid.
Carefully lower the water feature into place onto the galvanised grid ensuring that the pipe is fed through the centre of the stone to enable water to flow out of the top.
Once in place trim any excess pipe from the top of the stone feature, fill the reservoir with water and turn on.
The majority of fountain and water feature pumps come with flow regulator allowing you to control the flow of water as it bubbles away from the centre of stone.
Scatter pebbles and cobbles around the base to disguise the galvanised grid.
The majority of our granite and stone water features do come with LED lights which illuminate the water flow at night, perfect for enjoying your garden during lazy summer evenings.
Adding Fountain Fresh to the water feature during the warmer summer months helps reduce the build of algae keeping the water feature looking attractive for years to come.
This article was written by Water Bucket Walter