Our biggest ever Resin Water Feature - The Forest Falls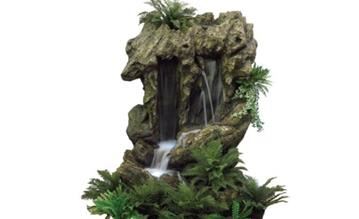 This season we have taken delivery of our biggest self contained resin water feature.
The Forest Falls Water Featue is manufactured by Gardman Water Features , the leading supplier to garden centres and general retailers across the country.
Standing at 2.1m in height (thats 7ft!) the feature is manufactured from polyresin. The resin is set in large moulds before going through a lengthy drying period. After the resin has set the Forest Falls is assembled together to form the giant waterfall cascade.
Before the water feature is painted and finished it goes through one final leak test. Water is placed into the base and thoroughly tested before moving onto the final stage of production.
Skilled craftsmen then paint the entire feature using a mix of fully weatherproof paints and realistic moss effects.
The LED lights are then added to the base of the feature along with a suitable water pump and low voltage transformer to power the lights.
The Forest Falls Water Feature is perfect for a larger garden or commercial display. Due to the size of the item we would always advise speak to our friendly Yorkshire based customer care team to answer any questions you may have and also discuss delivery. Our office is open from 9am- 5pm Monday to Friday (01226 388889)
Currently the water feature is on special offer at just £1799, saving £1,200 on Gardman's RRP.
This article was written by Water Bucket Walter