Monolith Features - Natural and Rustic Decorations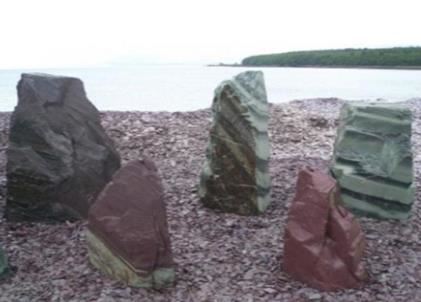 Our slate Monolith Features are a wonderful way to add a more natural focal point to your garden, as opposed to some of the more contemporary features which can sometimes seem like they have just been 'placed' in your garden.

Especially now the autumn months are upon us, a more rustic, rugged feature like the monoliths may be a more desirable addition to your garden, creating a more subtle decoration. All our monoliths are UK sourced, we buy direct from the quarries the monoliths are mined from and are proud to support British companies.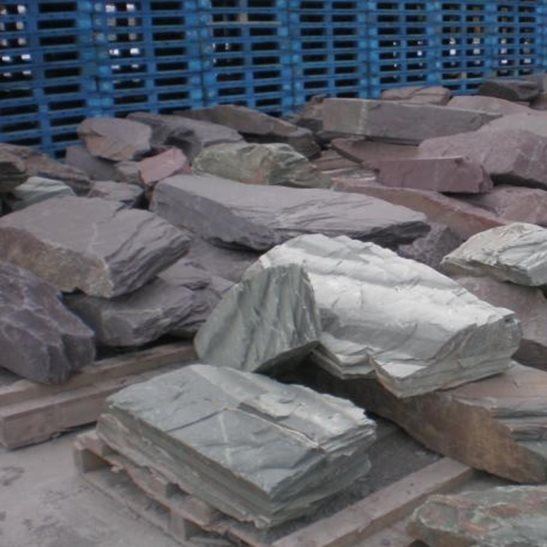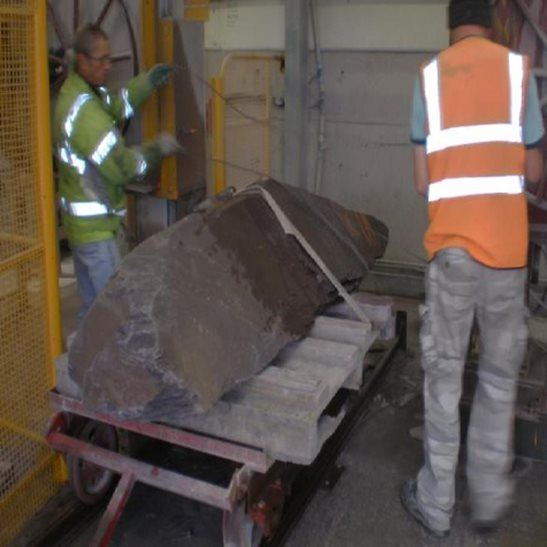 There are no two monoliths the same, every monolith differs in size, width, depth and finish to the faces. All these aspects are one of the reasons why slate monoliths remain a popular choice when looking to add a water feature to your garden.

In this blog we'd like to prepare you with lots of handy information, hints and tips for when you come to selecting your new Monolith Feature from UK Water Features.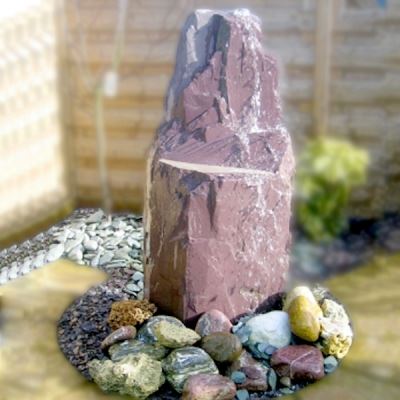 Firstly you will need to decide where in your garden you would like your new feature to be placed. Along with this you need to select the size of the slate feature.
If you have a large enough garden and you are considering our 6ft Slate Monolith Feature or bigger, it is better if your garden is still in the design process. The 6ft features are immensely heavy at around 1 tonne (the same weight as a car!), so when delivering and placing this feature, heavy duty lifting equipment may be needed, which may spoil any current parts of the garden e.g. flower beds. This is why it is more ideal if the garden is still in the bare, design stages so nothing else is ruined in the manoeuvring process!

Our Monolith Features are available in sizes of 2ft, 3ft, 4ft, 5ft, 6ft, 7ft and 8ft, and remember each feature is handmade so is completely unique so may differ very slightly in shape and dimension from the images on our website.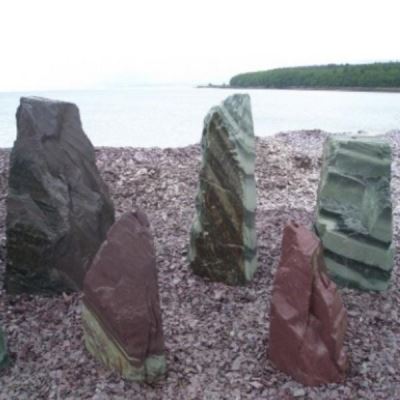 2ft and 3ft monoliths can be installed quite easily. Both sizes can be installed using a pre-built, off the shelf Pebble Pool. All you will need to do is dig a hole big enough for the reservoir, ensuring that it is level at the base. We would also advise adding a layer of aggregate or even concrete at the base to give extra support.
The pebble pool can then be placed into the hole, the pump added and the monolith carefully positioned on top, finally the plastic lid can be disguised using pebbles or matching slate (plum or blue coloured slate clippings).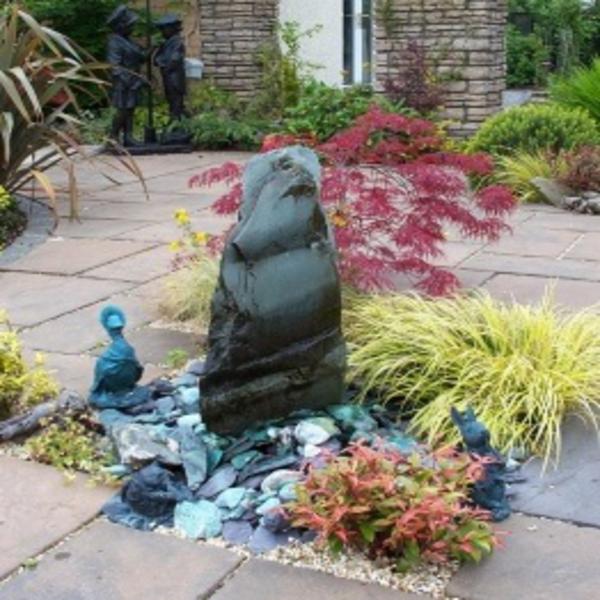 Our most popular Monolith Feature is the 3ft drilled monolith in both plum and blue slate.
Larger monoliths are ideally suited to commercial landscaping projects. Last year we supplied several 8ft monoliths to universities and public parks across the country.
Due to their heavy weight the 5ft, 6ft, 7ft and 8ft features are not able to be stood on one of our regular pebble pools. Instead they will need to be placed onto a customer made pool with a galvanised grid.
The usual procedures for building these customer made pebble pools are as follows:
A base is built using breeze blocks with cross supporting sections
The pool can then be either lined with a heavy duty pond liner or painted with a sealant
On top of the pool a galvanised grid can then be placed, this is what the monolith will be sited on and once installed can be covered with pebbles or cobbles to disguise its appearance.
The majority of galvanised grids come with an access hatch, meaning that once the monolith is installed, the pump and piping can still be accessed for maintenance when required.
The next thing to consider is the pump, which we have many available on our UK Water Features website!
The pump which will feed water to the top of the monolith needs to be submerged in the pool which has just been created (see steps above). The depth of this pool ideally needs to be at least 30cm to allow for the pump to be completely covered in water. Most pumps come with 10m or 30ft of cable and can be wired directly in 240 volt mains supply. As with anything electrical, we always advise that the pump has a RCD adaptor fitting for added protection.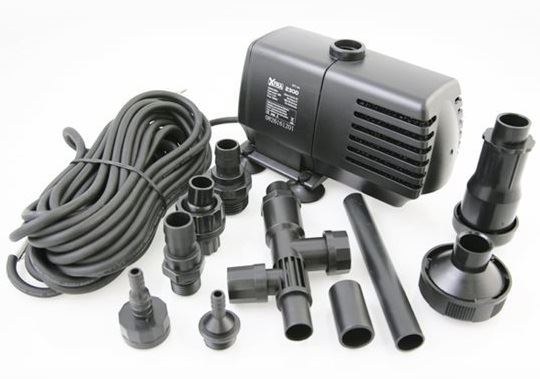 Ribbed hose will need to feed from the head of the pump and travel up the centre of the drilled monolith. In most cases the pipe is pulled through the of the monolith then a small amount of PVC tape wrapped around the top before tapping back into the monolith to give a tight seal and prevent water flowing back down the inside of the monolith. Although in most cases when attaching the pipe to the pump the fit is quite snug a jubilee clip is advisory and will reduce the chance of the pipe becoming disconnected from the pump.





Return to our website to continue shopping all our monolith water features. All these kinds of features are delivered free or charge to the kerbside normally within 48 hours.
If you have any further questions about our monoliths or any other water feature please use the Live Chat button below or call our friendly customer care team on 01226 388889.