Post Boxes - The end to soggy mail!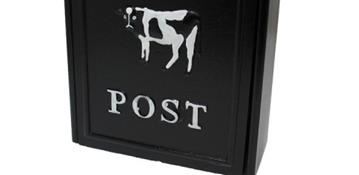 A post box can finally mean an end to soggy mail. If you have a dog maybe your fed up of returning home to chewed mail?
Letter boxes can easily be fitted onto the outside of your home and allow the postman to easily delivery mail ensuring it stays dry, safe and secure until you return home.
Post Boxes come in a variety of shapes, sizes, styles and colours allowing you to select a post box which fits in with your property and colour scheme.
The most popular post box has a simple slot in the front and sloped roof. This style can be seen on the front of properties across the country. The most popular colour is black and to ensure the post boxes will survive the harsh British weather they come powder coated for added protection.
Letterboxes also make ideal gifts, maybe your looking to purchase a gift for someone who has bought their first home? Or as newlywed couple.
UK Water Features has a new range of post boxes made from powder coated steel and cast aluminium in a range of styles and colours. All our post boxes come complete with two keys and all the fittings needed to easily attach to a house wall.