Solar Powered Water Features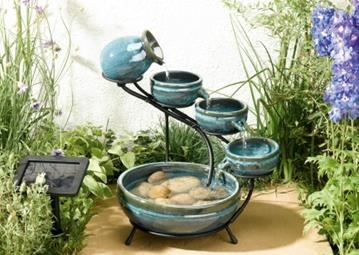 With the media today printing reports that July will bring a heatwave that could last the entire month could Summer finally arrive in the UK?
To celebrate the start of July and what could be more consistent weather we have increased the range of solar powered water features.
Solar power during the past couple of years really has developed quickly. We only have to look at houses in every town and City to see homes with solar panels attached to the roof. Solar is also now a common site in gardens and commonly used in solar lights to brighten up borders and pathways as darkness falls.
Our solar water feature range utilise the natural powers of direct sunlight to power a water pump and in some cases built in LED lights. Several of the more advanced solar fountains also come with a battery back up enabling the fountain to be enjoyed at night as-well as throughout the day. With battery back up solar pumps and fountains the power is built up during the day and stored in rechargeable batteries automatically turning on at dusk.
There are two main advantages in choosing a solar water feature:
No need for fixed power, these run of the natural power of the sun at no cost!

The flexibility to move around the garden as you choose. At different times of the year different parts of the garden may attract more sunshine. Having a solar powered water feature means this can also be moved around the garden without the hassle of moving electrical cables.
Here are four of our most popular solar water features:
UK Water Features stock over 1,500 different water features. Based in Yorkshire we are proud of our good quality products, affordable prices and high levels of customer service.
This article was written by Water Bucket Walter