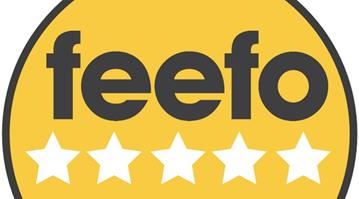 As you well know we are not only an friendly online water feature specialist, we stock well over 4,000 garden accessories and decorations. So we have a wide range of customer purchasing various different products each and every day.
Over the past few months we have been using a new review system which allows you guys the ability to both rate the service you received before and and after your purchase with us as well as your feedback and comments on the product you bought.

We decided to give Feefo a trial run and we are now happy to say that it is now full time member of the UK Water Features team. The reasons behind our switch from TrustPilot to Feefo is simply because we wanted to hear what your thoughts were on two levels, service and product.

Feefo is a highly respected reviewing system that give you, the customer, to review your entire online shopping experience with us. Take a second to read through our dedicated Feefo review page by clicking on the image below.


Here at UK Water Features we value our customers opinions with the up most highest regard and take every single comment on board whether that be a positive or a negative. We're proud to say that we rarely get an unsatisfied customer this is down to our excellent customer service team who can be reached at any point pre or post purchase on 01226 388 889 or by emailing your questions to info@ukwaterfeatures.com where a member of our team will get back to you as soon as possible. We're not shy and we want you to know that we are here and do not hide away. Should you have any questions please feel free to give one of our members of staff a call with your questions or concerns.

On behalf of the entire UK Water Features team we would like to take this opportunity to say thank you to everyone who has taken the time to leave us a comment on Feefo so far.