Indoor Water Features - Save 25% on the Lily Tabletop Fountain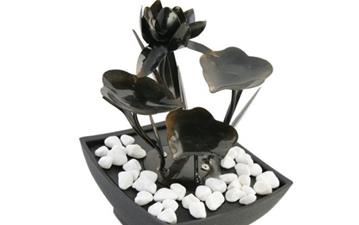 Well the weekend weather certainly has been a little changeable. With the start of Wimbledon this week I think we have all got used to a vast variety of weather at this time of year. We are confident though that the sun will be back later this week and the start of July brings more consistent warmer weather to all parts of the UK.
My chosen product of the week is one of our very own indoor water features. The Lily has been a customer favourite for several years and we've been reluctant to remove it from the range due to its popularity.
This week you can now purchase the Lily Indoor Water Feature for just £14.99, a saving of 25% on our normal web price.
The Lily makes an ideal gift and comes complete with a mains powered water pump and decorative white pebbles to scatter around the base of the feature.
Adding a water feature into your home not only looks great but also has proven health benefits, removing nasty toxins from the air and are also said to reduce stress levels! – something I'm sure we could all do with!
After removing the indoor fountain from the box it can be up and running within 5 minutes. Simply connect the pump to the bottom of the feature, fill the plastic reservoir with water, scatter the white pebbles over the base and plug in. You can now enjoy the soothing sound of flowing water in your own home.
I would always advise changing the water every couple of days if you are going to use the fountain on a regular basis, simply empty the plastic base and refill. If you live in a hardwater area filling the fountain with distilled water does reduce the built up of limescale.
We do have many more tabletop water features here at UK Water Features, with prices starting from juust £9.95.