Transform Your Garden Into a Woodland Wonderland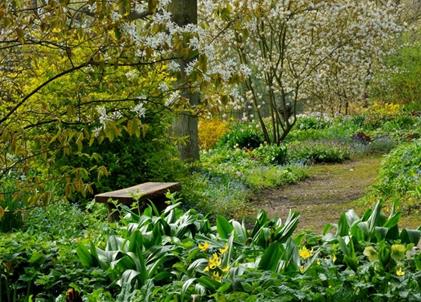 We all love to get out and about in the countryside on a summer's day, enjoying a relaxing stroll and taking in the fantastic scenery. We're very lucky to have so many beautiful places to enjoy in this country! But why not bring a slice of this into your very own garden?

It's easier than you'd probably think to create a woodland themed garden. Because you want the space to look natural, you don't have to be too strict with the organisation of your plants and decorations. If you're looking for some inspiration, these styles are great to take some ideas from!
We could certainly see ourselves relaxing in a space like this, we love the natural border creating a path through the space. Wildlife would love this garden too!…

Image from Pinterest
We also really love this one! And this idea even shows the addition of water that we're interested in!...

Image from Pinterest
Here at UK Water Features we have lots of great Woodland Water Features to add the perfect focal point to your wild garden. We think the sound of water flowing is so relaxing, so one of our fantastic water features will be the ideal addition to your tranquil woodland space!

Our 6 Fall Driftwood Water Feature, creates some wonderful relaxing sounds to enjoy out in your garden this summer! Watch as the water flows from the top of the water feature all down to the bottom of the natural looking logs. The perfect addition for your woodland garden, this will look fantastic nestled among your plants and flowers!




We also love our Bog Oak Falls Feature, which will certainly add some interest to your garden. The lights on this feature look fantastic and will add something to special to your garden at any time of day! Another feature in our range that's perfect for your woodland wonderland!



We love the waterfall this feature creates! We're certain our Large Woodland Multi Falls will give you a real sense of being out relaxing in a real-life woodland wonderland!
Or how about this Woodland Hidden Falls Feature, where the attractive, pouring pools are nestled within the feature, perfect for tucking into secluded areas of the garden, amongst trees, shrubs and rocks.




Or how about one of our Woodland Features that has more of a babbling effect? We just love our Tree Trunk Section Bubbling Feature, that has added LED lights, so looks fantastic during both the day and night time! The rustic effect of all these features will help to make them look like they've been in your garden for years!

We hope this short blog will have given you a little inspiration for creating your very own wild, woodland themed garden. Here at UK Water Features we have lots of great designs that will help to create the right atmosphere. So head over to our website to view all these features and many more, and whether your garden is big or small, we have something to create a woodland garden that's right for you!