Contemporary Style with UK Water Features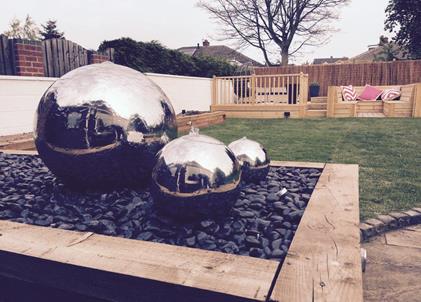 Now summer is in full swing, we're sure you'll be starting to enjoy lots of time out in your garden in the sunshine! But do you still feel there's something missing from your garden décor and atmosphere?

Perhaps a water feature may help to fill that void!
Not only do water features add a stunning new decoration to your garden, they can also add relaxing, trickling sounds, helping to create an even more relaxing atmosphere this summer!

If you have a modern styled garden, then this water feature blog is for you!
Here we're going to take a look at some of the amazing contemporary features we have on offer here at UK Water Features that could be yours this year!
Amongst all the other fantastic features we stock on our website, we also have our very own range of water features, our Tidal collection! These are lovingly handmade here in Yorkshire, and we have many stunning, modern designs available.
This includes our ever-popular Stainless Steel Sphere Water Features that are available in a whole range of sizes, shown here on the left on 40cm. Why not stand alone like this to create a fantastic focal point in your outdoor space, or group together with spheres of different sizes to make a creative garden display like this one below.

Stainless steel is a great choice of material when it comes to selecting a new feature for your modern garden. Also available in our Tidal collection is our Large Tubes Stainless Steel Feature and our Kerala Stainless Steel Feature. These features are made from high quality, grade 304 stainless steel, and the polished finish creates beautiful reflections in your garden on a summer's day!
Spheres are a great design to go off when you're looking for a contemporary type of feature. There's just something about the sleek shape that fits in perfect with a modern décor! Here are two great ideas, our Abigail Sphere Fountain and our Contemporary Diagonal Fountain. Both of these gorgeous designs will be great on any garden or patio, and will certainly add a talking point to your garden this summer!

Other metals make great materials for modern water features too, we love the rustic effect of these features found in our Metal Water Features collection. Here we have our Ravenna Zinc Water Feature and our Rappallo Zinc Water Feature, both are fantastic, hand finished items that are self-contained, so require very little maintenance after installation.
Natural materials can make great contemporary decorations too, just like our Polished Marble Fountain and our 50cm Rainbow Sandstone Mill Wheel. These minimal and sleek designs will compliment a modern garden space perfectly, and the gentle bubbling sound created at the top of the features will add a tranquil, relaxing atmosphere to your outdoor space.
We have lots of other naturally coloured water features, and these are perfect for indoors and outdoors. Our 7 Fall Oval Bowls Feature and our Tall Ripple Effect Feature are lit with lovely warm white LED lights, so can be enjoyed through both the day and night! These will both create a peaceful, soothing sound to enjoy in your garden this summer, and are made from durable materials so can be enjoyed year after year!

Or how about a feature such as our Granite Cube Fountain to create a bold modern statement in your garden or patio? This feature comes in a complete kit with everything you need to get set up, including water feature, pump, lights, transformer and instructions. Lit internally with white LED lights, this can be enjoyed at all times of day. We love the rugged yet stylish finish to this feature, making it the ideal focal point for your contemporary garden.
So, here we have shared just a handful of the fantastic, contemporary themed water features that we have available, be sure to head over to our UK Water Features to view these and many more!
We have all your Indoor and Outdoor water feature and Pond needs taken care of at UK Water Features, and our friendly sales team are on hand to give expert advice if you need it!
We hope to help you pick out your brand new modern water feature this year!