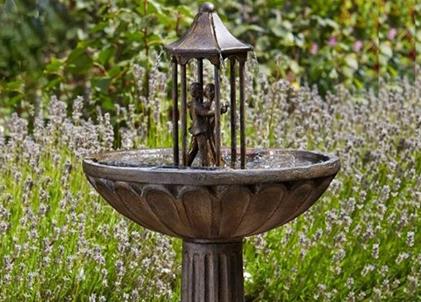 There are lots of reasons why people choose a solar powered feature for their garden, and in this short blog we share with you some of the top ones!
Obviously solar powered water features harness the power from the sun to run, so where we are now in the height of summer, is the perfect time to treat yourself!
We have a fantastic range of Solar Features in our Outdoor Water Features collection, so if you're looking for a brand new way to add interest to your garden this summer, you've come to the right place.
Check out these top reasons for using solar power this year…
1. No running costs
One of everyone's favourite benefits to solar powered water features is the fact that they have no running costs. Once you have made the initial purchase, they simply use the sun's natural power which of course cost nothing!
The solar panels require direct sunlight to fully operate and use this sunlight to bounce electrodes off each other, this movement creates the power needed to run the built in pump.
Several solar pumps now also have a battery back-up system built in. During the day the fountain runs like normal whilst at the same time storing energy in a battery back. As soon as the sun goes behind clouds or sets, the battery back-up system automatically takes over.
2. Versatility
With a self-contained, solar powered water feature like the ones available here at UK Water Features, you are not restricted to only displaying this feature in one area of garden. Solar water features can simply be picked up and moved around the garden depending on the time of year and position of the sun. So if you ever fancy a change in the position of your focal point, this can be easily done.



3. Energy efficient
Solar fountains really are super energy efficient! Because they use renewable energy for power, you are not using electricity to power it. Not only is this much better for the environment, it's also better for your pocket!
4. Beautiful designs
Designs vary greatly on our website, from traditional pouring features to modern styled bubbling fountains there really is a solar water feature to suit all tastes and budgets! We also have a range of materials on offer to match different kinds of garden décor, such as polyresin, stainless steel, ceramic and more!

Here are just a few more of the differing designs on offer…


Our Green Glazed Frog, 30cm Stainless Steel Sphere, Neptune Ceramic Cascade and Pitcher Cascade Water Feature.
5. Affordable
Solar water features are a very affordable alternative to their electric counterparts. Solar fountains can be purchased on our UK Water Features website for as little as £41.98, and as mentioned before, that's all really you need to pay due to no running costs! If over time you start to notice certain parts to your water feature may begin to wear out, our friendly sales team are on hand who can help you to source replacement parts.
So why not make the most of this gorgeous weather were having, and treat yourself and your garden to one of our fantastic Solar Powered Water Features this summer!