Adding Lights to Your Water Feature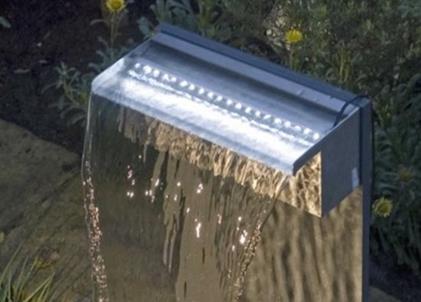 Summertime is the best time of year to really make the most of your water feature. There's nothing like the sights and sounds of trickling water to help you to relax in your garden on a summer's day. But why should the fun stop when the sun goes down?
Did you know here at UK Water Features we stock a wide range of Water Feature Lighting, to add to your beloved fountain so you can enjoy it just as much through the summer evenings as you do in the day!
In this short blog we want to show you just a few of the great lighting options that you can make use of this summer, to ensure your water feature remains being the focal point of your garden or patio at all times of day! Adding your own lights to your feature is so simple to do, you can be enjoying yours in the night time in no time at all!
We have lots of colours and types of lights available, but one of our water features that looks very effective with the addition to lights is our Water Blade Feature. These lights are available in different sizes to match the accompanying feature and is placed at the top of the feature to illuminate the waterfall effect that flows out.
Here we have the light kit for the 30cm version…
Lights can be added to so many of our features, simply by placing them in the bottom of the feature, under the water. For a warm, calming glow to your feature why not choose a warm white light just like our 36 LED Underwater Amber Pond Light. These lights are built into a quality stainless steel casing, meaning they are designed to last! They are energy saving and have a long lifetime so are perfect for placing in any Pond or Water Feature.
For something a little more natural looking, why not choose our Underwater Pond Rock Light, available in Green or White. These can be used inside or outside the water feature so works great with lots of products. The external transformer comes complete with 10 meters cable, so gives you a great range to reach your outdoor power supply.

Ideal for lighting up your water feature in style, our 12 LED Extendable Spotlight has bright white LEDs to make a special feature of your garden focal point in the night time. It is super easy to install, just plug in and enjoy! This is again suitable for placing in the water or as garden lighting outside your water feature.

For a larger feature or space to cover, why not try one of our light sets, such as our Set of 4 Multicoloured Spotlight Kit. This pack comes with everything you need to get set up and running, including a transformer and 12 m of cable, and again can be used in our out of the water. This is perfect if you're looking to add more vibrance to your garden at night time. If you wanted something a little simpler, we also have this great light available in White LEDs.

Don't forget to head over to our full UK Water Features website to be able to view theses lights and many more! We hope you'll make the decision to light up your water feature this summer, to make it an impressive part of your garden in both the day and night!