Water Features to Last a Lifetime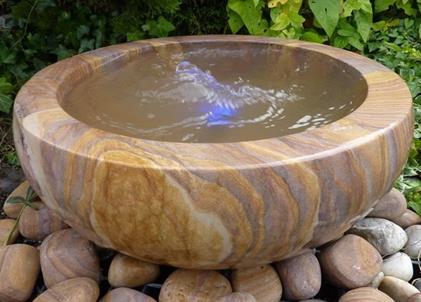 Hand carved, luxurious, stylish… what's not to love about our Granite, Marble and Slate Water Features?!
This range of fountains on our UK Water Features website are absolutely perfect for adding a natural and rustic feel to your garden, and these features are all ideal to suit modern or traditional spaces alike! The gentle sound of water running over stone is renowned for its calming properties and all granite and marble water features are designed to last a lifetime with minimal maintenance and upkeep, so are the perfect hassle-free choice!
So if you're looking to update your garden this summer, but not sure which style to go for, we hope this blog might inspire you to try a Granite or Marble Water Feature of your very own! Let's take a look at some of the fantastic designs we have in stock right now…
First we have a couple of our Babbling Bowl style features, our Granite Babbling Bowl and our Polished Marble Water Feature. Not only do these features serve as a fantastic garden ornament, they will help to attract wildlife to your space too! The rustic effect of these features will help to make them look like they've been part of your garden for years, so are perfect for nestling amongst your plants and flowers.


We also have some stunning sphere shaped water features, such as our 40cm Granite Sphere and our 40cm Polished Yimeng Flower Sphere. These both have built in LED lights, and you can choose from white or blue LEDs to personalise the feature to your taste. These beautiful hand carved features will take pride of place anywhere in your garden, and are sure to be the talking point of the summer!


Our column shaped stone features are another popular design that will fit in well to both traditional and modern gardens. Here we have our Cascading Wave Granite Feature and our Set of 2 Basalt Columns, both of which would make a stunning addition to your garden this summer. These kits have all you need to get the water feature up and running, and once it has been installed, the pebble pool and base can be easily covered with pebbles, slate or rock as seen here to complete the look. Again, the colour of the light inside of the feature can be chosen, from white or blue, to create your own personal display.


Why not choose one of our more unusual shaped features for your garden, like our Rising Sun Granite Feature and our Rainbow Babbling Basket? Both are ideal for modern spaces, to help to create a unique and original display. The lovely colouring of these features will help you to create a bold statement in your outdoor space this summer, and the materials are durable and hard wearing so these features are designed to remain part of your garden for years and years to come!


For something else a bit different, why not try a stunning feature like our Cascading Stacked Pebbles Water Feature? Standing at 80cm high this captivating tower of granite pebbles this will feel like a real touch of nature in your garden. Listen to the water trickle down the sides of the pebbles as you sit back and relax in your garden this summer!

We love the genuine, rustic nature of all these features, and as they're made from different kinds of solid, durable stone, they're designed to last in your garden for a lifetime!
Here we have shared just a handful of ideas from the Granite, Marble and Slate collection on our website, so be sure to head to our UK Water Features site to view the whole range, for even more summer garden inspiration this year!