Water Features - The Perfect Addition to Your Garden This Summer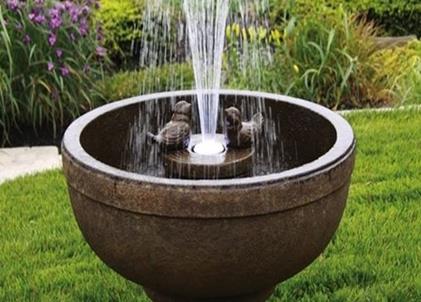 Water features are well known for their calming properties, as well as creating a stunning visual display in your garden or home. This makes them the perfect addition to your garden in the summer, as this is the place we enjoy relaxing most when the weather is so nice! Just imagine putting your feet up and chilling out in your garden with the tranquil sound of your brand-new water feature trickling in the background.

Water features can be used both indoors and outdoors though, wherever there is access to electricity. Some of our water features are solar powered allowing them to stand alone without access to mains electricity, making these even more suited to this time of year!

Our features come in a wide range of styles and sizes, from modern designs such as our stainless steel spheres or tubes, to our more traditional urn style features or pouring bowls.
Whatever your taste, there's a feature on our website for you! There's still plenty of time to treat yourself this year if you're looking to update your outdoor space and add something spectacular to it!
Take a look at this blog for a bit of an overview of what we can offer here at UK Water Features, we hope to help you to create the garden of your dreams this summer time!...
Types of water features:


Here a UK Water Features we stock many different types of features, but they can be broadly categorised into the following:


Most of our features require very little installation or maintenance as they come fully self-contained, so there's no need for a constant water supply. All you need to do is plug them in or charge the solar panel, add water and enjoy!
Water features can be displayed almost anywhere. They mainly come with at least 10m of power cable allowing you to install them at your choice of location. Some more features can look best backed up against a wall, fence or amongst plants, where some are best left in the open with space around them. The possibilities are endless when it comes to where to place your feature, and it really is down to personal preference and where you'll be able to enjoy it most.

Don't forget we also stock a fantastic range of indoor water features, perfect for adding something special to any room of the home. As well as these, we also offer a great range of pre-formed ponds to create your very own garden pond which are great for welcoming wildlife to your yard. You can also find all the accessories, lights and care products you need to keep your feature in tip top condition all year round! UK Water Features really is the one stop shop for all your water feature needs!
Our full range of water features can be found on our well stocked UK Water Features website, and whatever style is for you, we're sure we have the perfect addition to your summer garden on our website!
If you have any questions or queries regarding any of our fantastic products, our friendly sales team are on hand to offer professional advice to help you make the perfect choice! Find all our contact details on our website and feel free to get in touch today!