Treat Dad This Father's Day!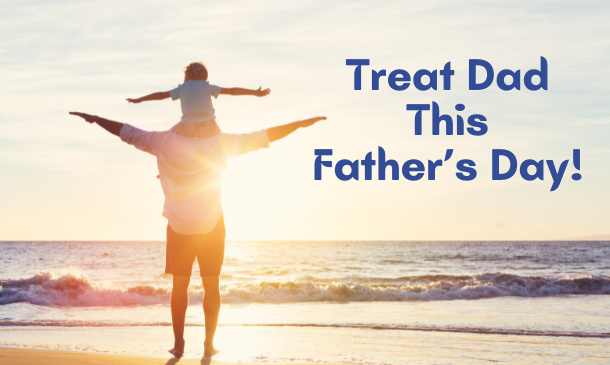 Father's Day is just around the corner and is the perfect opportunity to show the special man in your life how much you care! Why not do this with a thoughtful and original gift of a water feature? Something that Dad can enjoy long after his big day is over, and the perfect gift for this time of year as we approach the summer months. If Dad isn't much of a garden lover, we also have a fantastic range of Indoor Water Features so he can enjoy all the benefits from the comfort of his own home!
In this blog we take a look at just a few of the great water features we have on offer that are in a gift-buying budget, with something to suit any taste and décor scheme, so if you're still searching for the perfect present for Dad this year, you're in the right place!...
Let's start by taking a look at a selection of our brilliant Outdoor Water Features that we think your Dad will love.
Perfect for gardens, patios or decking areas, our Solar Green Glazed Frog Water Feature will make an ideal gift! Water flows out of the frog's mouth into the green leaf bowl below in this feature from Smart Solar, creating a relaxing sound that can be enjoyed all summer. With no wiring required, this solar water feature works in direct sunlight, is easy to install and looks great in any outdoor space.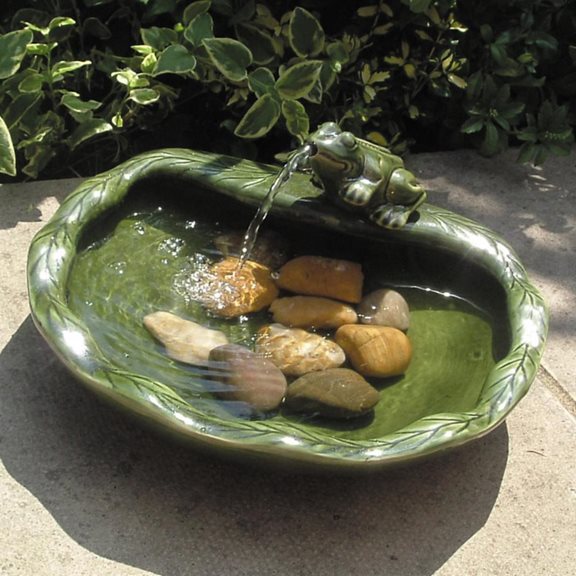 Another fantastic feature that will look great in all settings is our 2 Tier Barrel Water Feature with Traditional Hand Pump. This one is perfect for a classic styled garden, for adding extra charm to a traditional garden décor scheme. This feature is easy to install and use, so Dad can be away enjoying it in no time at all. This is also available for next day delivery so great if you're a bit last minute with your gift planning this year!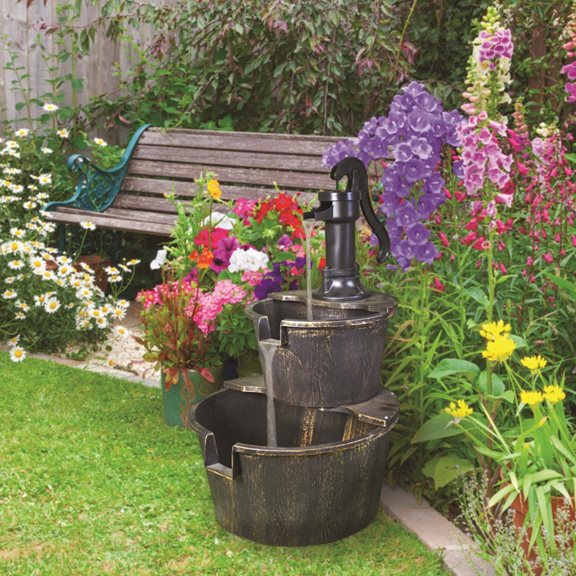 If your Dad prefers more of a contemporary décor scheme, why not add some Zen to his space with one of our Buddha themed water features? Our Sitting Buddha LED Lit Oriental Wall Water Feature is actually ideal for both indoor and outdoor spaces. Again, this is very easy to set up, simply place, plug in and enjoy! Built in LED lights illuminate the feature for a stunning and ambient effect in the night time so it can be admired at any time!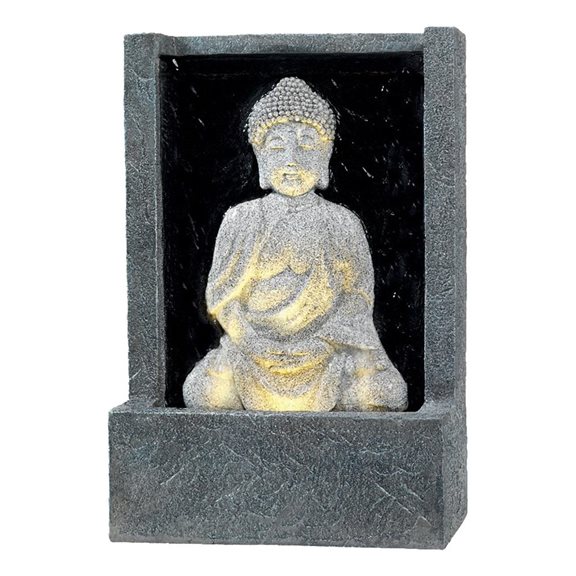 If your Dad might enjoy a bit of garden project, then our Solar Powered Pebble Fountain Kit will be just the ticket! With this water feature kit he can create his very own DIY fountain and this even includes LED lighting so make this an enjoyable garden feature for all times of the day. He can also add stones, slate or pebbles on the top to disguise the reservoir, making it a lovely, natural looking addition to the garden!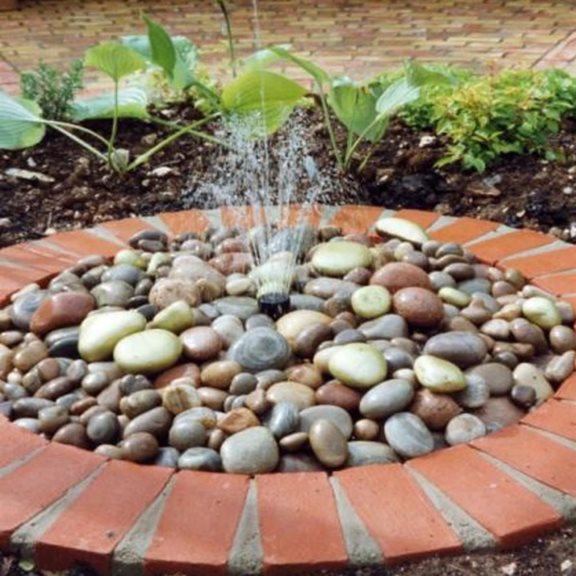 Now, let's take a look into some of the equally fantastic Indoor Water Features that will help to bring a calming atmosphere to any room of Dad's home! Again, we have a whole range of styles to suit any décor taste, take a look for yourself…
Our Auckland Stainless Steel Indoor Water Feature will make a sleek and stylish addition to any tabletop in the home. This will be perfect for placing in a living room, conservatory, bedroom and more! New to our range this year this feature showcases a reflective stainless steel sphere and black polyresin base. Indoor water features also help to naturally humidify the air in your home as well as decrease dust particles and pollutants, all whilst looking great too!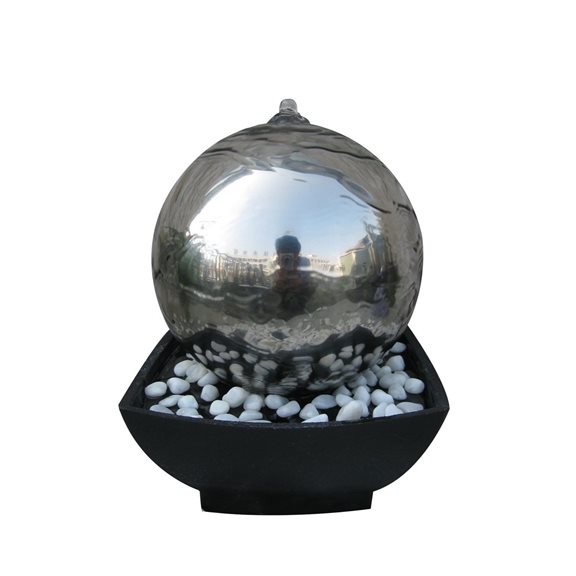 New to our Indoor Water Feature range this year is our Merano Table Top Fountain, which with its sentimental theme will make a perfect gift this Father's Day! This will fit perfectly onto any window ledge, fireplace or shelf and with the LED light placed under the spinning crystal ball, it is a feature that can be enjoyed at night too! This is super easy to set up so dad can be away enjoying his new water feature in no time at all!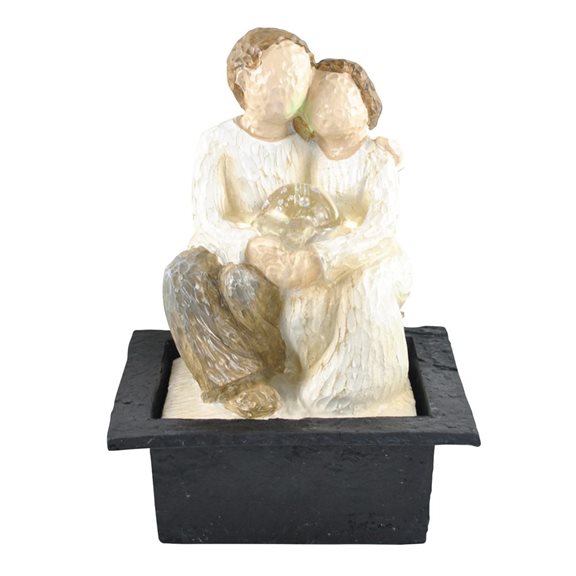 We hope that this blog may have given a little inspiration if you're still searching for the perfect gift this Father's Day. We truly think a water feature will provide a present as special as he is! Be sure to check out our full range of water features to view the products mentioned above and hundreds more!