Solar Water Features Round Up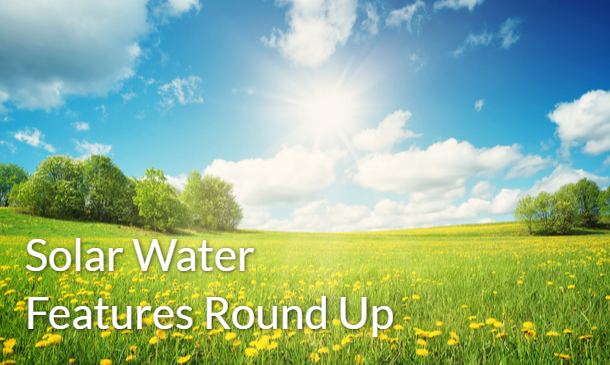 Why choose solar?
Solar features are a super eco-friendly option as they harness the natural power of the sun's rays. Great for the environment, amazing for your wallet! This also means that you're not restricted when it comes to choosing a suitable spot for your feature as you don't need to position the fountain close to a power source, so they're very versatile! Solar features also make great gifts as they're low maintenance and installing them doesn't require any burying power cables; simply place and enjoy! Hopefully we've convinced you by now, so why not grab a cuppa, sit back and relax, while we give you a tour of our top picks.
Traditional
Our Two Tier Barrel Feature is a wonderful choice for a more traditional look and would suit a farmhouse or cottage garden perfectly. It has a battery back up option which will automatically power the feature if a cloud passes over. The double waterfall will produce lovely tranquil trickles whilst you relax outdoors on warmer summer evenings and the rustic feel gives an inviting ambience to any space!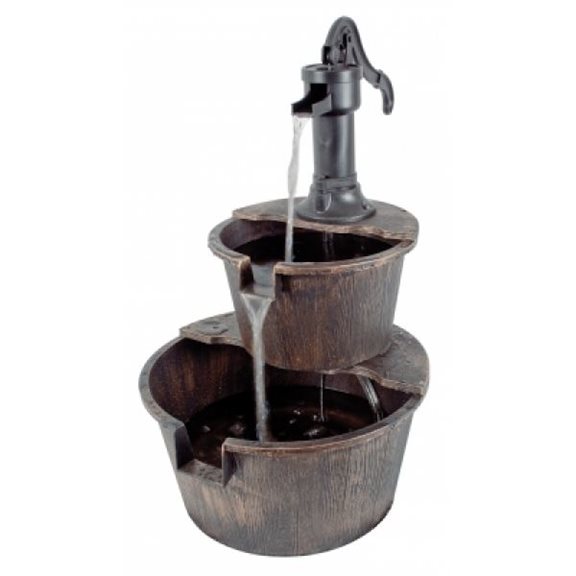 For those wanting to bring an oriental feel to their garden, we're in love with the Sitting Buddha Pouring Bowl Solar Water Feature. New to our range this year, this beauty is hand finished and features exquisite detailing. The grey shade is a warm neutral so it compliments both warmer and cooler tones and the babbling bronze bowl is a real show-stopper.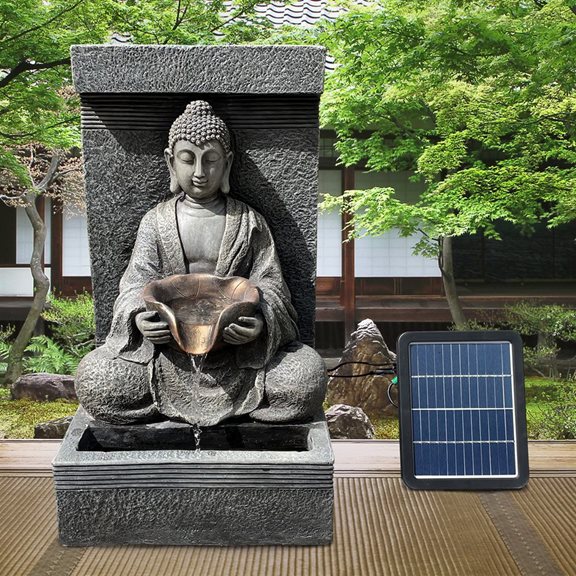 Woodland
When it comes to woodland, the forest is your oyster, but the Solar Woodland Falls clinches the top spot for us! It has four mini waterfalls so the pouring effect creates a lovely tranquil sound to help you relax and unwind (this also helps disguise any traffic sounds). The Woodland Falls stands proud at just over 2ft tall, so it's a perfect size for garden, lawn or patio. It also comes with an LED light in the bottom pool so it illuminates the feature and provides a warm, milky 'lit from within' effect.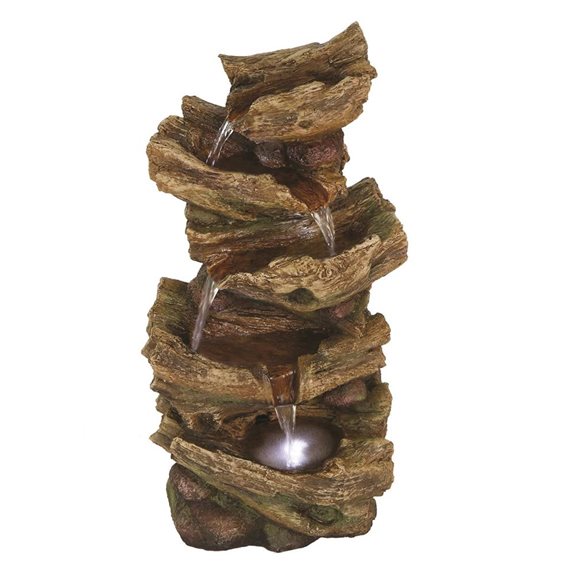 When it comes to animal fountains, we can't imagine anything sweeter than a duck family. This Umbrella Duck Family Birdbath is the ultimate easy feature. It runs entirely on solar power making it maintenance free - you won't even need to attach it to a remote solar panel as it comes with two panels which are integrated for your convenience. It's also great for the environment as it will attract local birds to wash and play in the fountain. You'll love watching them frolic under the trickles of water that run off the umbrella!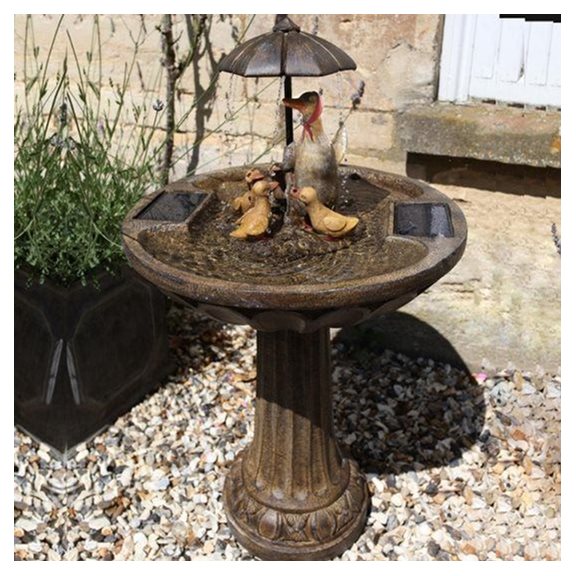 Contemporary
When it comes to contemporary water features, our winner has to be the Stainless Steel Sphere. Its spherical form means it can be admired from all angles, giving you the freedom to place it anywhere you please. Quiet corner? No problem! Proud centrepiece? Absolutely! Patio decoration? You bet! The stainless steel surface is polished to a high shine during manufacturing which offers the feature a luxe feel. This also makes it highly reflective, so it compliments its surroundings; from traditional gardens to oriental to modern, this Reliant Robin is a stellar addition every time! Stainless Steel Spheres come in many different styles. We offer in ground and out of ground options, as well as stylish fountains with spheres built into them, such as the Dayton or Grey Columns. (Please note that these are not solar.) The Stainless Steel Sphere is a fantastic all-rounder that suits any space; a fail-safe option that won't fail to impress.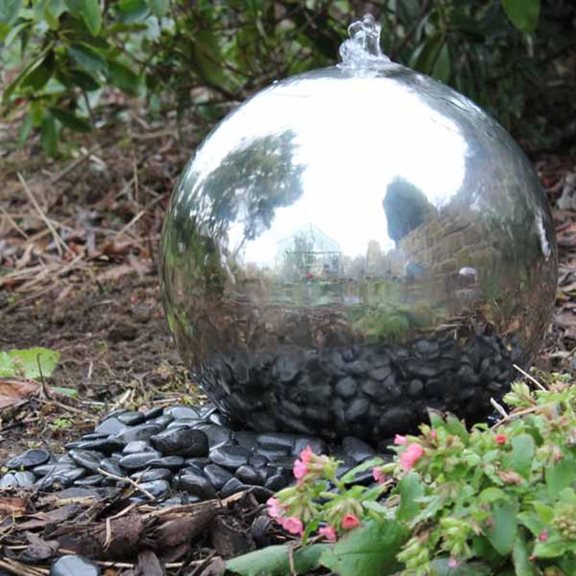 Here at UK Water Features, we have a fantastic range of solar fountains! Our features are available in a range of shapes and sizes so there's something to help you turn your garden into your very own peaceful paradise! Happy shopping!