UK Water Features - Finding the Best Garden Fountain for Your Outside Space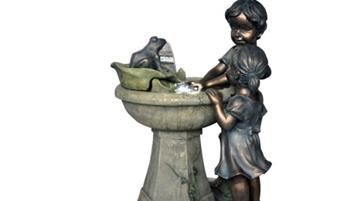 These days almost everyone has a garden but what adds a feel of serenity to it is Garden fountain. The culture of having garden fountain is not very recent, it's existing since renaissance. Today any garden would look incomplete without a fountain, if not incomplete there is definitely something you are missing upon. It is considered a decorative piece but it does have a soothing effect on the mind of people who have got it installed so far. The splashing, dripping and tickling sound of running water offers a sense of serenity and peace. Many people prefer to have fountains in their house for its very feature of effective and natural stress buster. It appears as a master piece in the middle of the garden where you friend and family wouldn't control praising it.

Variety of fountains available

There is huge variety of choice available in the market, you can select from materials like fiberglass, concrete, terra cotta, resin, ceramic, slate, copper, granite and even synthetic materials. All these materials are easily accessible in its solar form where you do not have to spend your money on electricity. Else you need to opt for the water pump that works on electricity and you need to manage the wiring and the electric outlet really well. Solar fountains are highly preferred as they are Eco-friendly, uses solar energy, can be used at night with the help of stored energy and quite safe for pets and kids as compared to the water pump based fountain.


Maintaining your Garden Fountains

Maintenance of the garden is quite important not only for the long lasting appeal of the fountain but also for your personal hygiene. Continuous flowing water might give rise to algae, to prevent this you can make use of anti-algae solution. At times minerals get deposited which can be treated with anti-white water treatment solution. You can make your fountain more beautiful by adding some add-ons like pebbles and bright lights that will make it look stunning especially during night, another thing that is high in demand these days is colored disc which add a theatrical effect to the water fall. Some people prefer to add fog and smoke to their garden fountain.
Cleaning of fountain doesn't take too long moreover regular cleaning will increase the life of your garden fountain. You can take out some time in around 4 to 6 months to clean your fountain. Cleaning the pump will improve its life and you can enjoy its serenity with your family and friends.
UK Water Features has a wide range of beautiful garden fountains in various shapes styles and materials. Including terracotta, slate and resin ranges.