All You Need To Know About Stainless Steel Sphere Water Features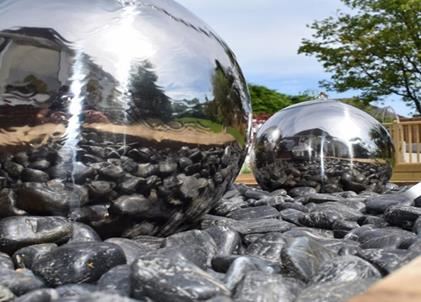 Here at UK Water Features we pride ourselves in the fact that we have a wonderful range of products to suit a whole variety of garden styles and tastes. If you're looking to update your outdoor space this summer with a modern focal point and decoration, you have certainly come to the right place!

One of our most popular styles of water features are our Stainless Steel Spheres. These are a great choice for more contemporary gardens due to their simplicity, clean edges and superb reflections.
All our stainless steel spheres are full self-contained, everything you need is in the box and in most cases they can be up and working within 5 minutes! Their simple set up makes them great, hassle free choices and you can be away enjoying your garden and new feature in no time!

Here is what you get in the box:
Stainless steel water feature (some also come with built in LED lights, please check specific product details)
Plastic reservoir
Pump & extension cable (10m)
Transformer
Instructions
12 month fully backed up warranty and customer support
We have a fantastic range of styles and sizes available, meaning there is something available on our website for any size of garden that we're sure you'll love.
Why not check out some of these designs below…
Here we have our 40cm Stainless Steel Sphere Water Feature that can be dug into the ground creating a lovely display blending right into your garden. These spheres are available in a whole range of sizes to suit your space, including 25cm, 30cm, 50cm, 60cm, 75cm, and larger items from 1m right up to 2m diameter, which are ideal for bigger gardens and commercial uses!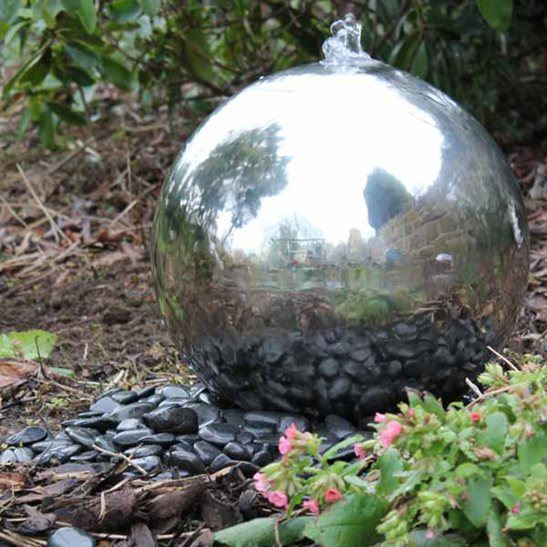 For something that is free standing, why not try something a bit like these? Here we have our Corona Stainless Steel Feature and our 50cm Sphere and Resin Bowl, both are self-contained and are ideal if you might fancy moving it to different positions from time to time! These features would be perfect for placing into your garden or on a decking or patio area.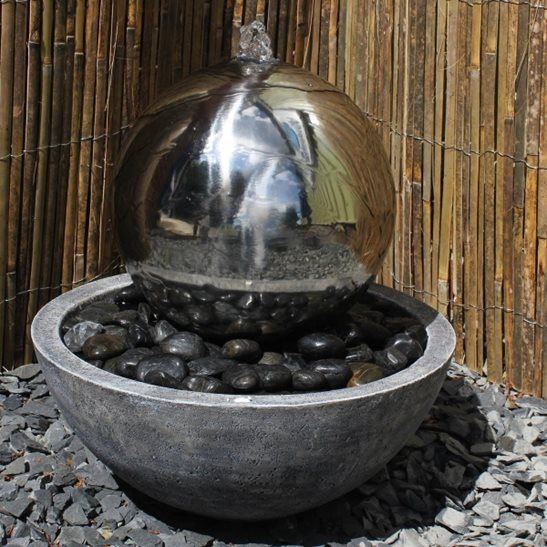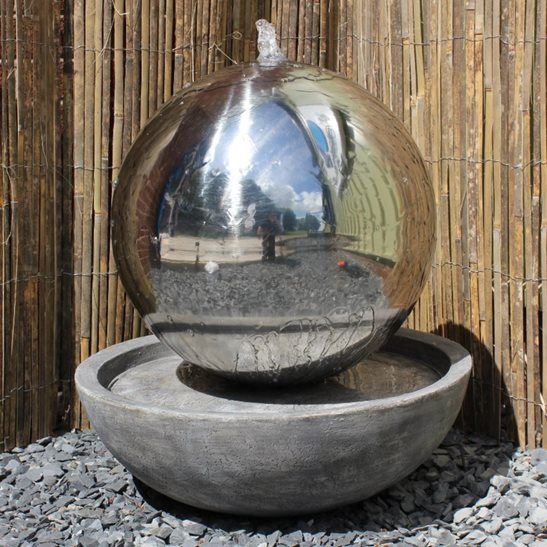 All our stainless steel features are made from premium quality, grade 304 stainless steel. When buying online you may find companies selling similar products for much less, always ensure that check the quality of the stainless steel as anything less than grade 304 simply isn't suitable for use outside and overtime will rust. We can safely say our spheres will not rust, we have had these in our range now for over 5 years with not one item returned (this is something we are very proud of and work closely with our factories to ensure these high standards remain in place).
Installing a sphere into your garden is very simple. Here are our basic steps and tips:
1). Choose a suitable location in the garden to install the water feature, remember you'll need to get power to it.
2). Dig a hole in the ground that is deep enough to house the reservoir, place the reservoir into the hole and fill it with water.
3) Fit the pump to the pipe which comes out from the bottom of the sphere and connect the pump and lights to the main extension cable, the pump can then be submerged in the water and the sphere placed onto the reservoir ensuring the cable lines up with the notch on one side of the line (this just stops the cable getting damaged).
4) Decorate around the base of the sphere with pebbles of your choice. We recommend our black polished river pebbles, which are of the finest quality and come in quantities of 15kg and 30kg. One of our 15kg bags should be enough to cover the top of your sphere, so the larger bag is ideal for covering more than one feature, or spreading on another area of the garden.
5). The water feature can now be turned on and enjoyed in your garden!
Maintaining your water feature is also relatively easy. Make sure you follow steps like these listed below to keep your stunning, brand new feature in tip top condition for years to come:
Every couple of weeks, or a little more often when the sun is out, top up the water in the feature. This can be done by simply pouring water over the sphere, it will then find its own way into the base below. On most occasions you can tell when the water level is running low as the height of the spout at the summit of the sphere reduces in size, as water is added this will regain in height again.
To keep the sphere looking shiny, a simple rub over every couple of weeks with a Stainless steel cleaning cloth will ensure the sphere keeps the beautiful reflections and will also add to the longevity of the water feature.
Finally to prevent the water going green and smelly especially when the weather warms up, an additive can be used in the water to prevent the build-up of algae and bacteria. There are several options available so why not check out our Water Feature Care products on our website?
If you have any questions about our Stainless Steel sphere water features or any other items on our website we are here and happy to help, simply call or email and we can get you sorted out with a brand new feature in no time. All contact details can be found on our UK Water Features website.