Fishing LED Lit Water Feature - Todays Product Of The Day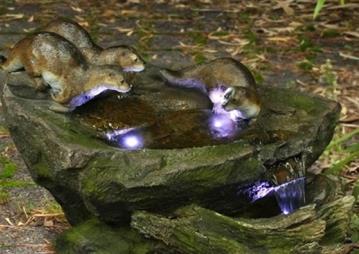 Each day I plan on bringing you an exclusive 'Product of the Day' - a one of special deal which will last for just 24 hours.
Today my buyers have worked hard with Bermuda one of the leading suppliers of water features and aquatics across the country to offer the 'Fishing LED Lit Water Feature' for just £89.00. This is a huge £90.99 saving on the RRP.
This water feature is fully self contained and ideal for a small garden or decked patio area. Everything you need is in the box, simply remove all the packaging, connect the pump and lights and carefully fill the feature with water ensuring the pump is fully submerged in water. It is then time to plug the water feature in, sit back, relax and enjoying the soothing sound of flowing water in your own garden.
As the sun sets the feature has the added benefit of built in LED lights, all this delivered to your door for less than £90. I think we can all agree this is a fantastic product at an incredible price. Whilst stocks last!
Height: 44cm / 17.6''
Width: 65cm / 26''
Depth: 36cm / 14.4''
UK Water Features has one of the largest ranges of fully self contained water features and fountains in the country. With large stocks and expert advice we have something to suit all tastes and budgets.