Happy New Year from UK Water Features!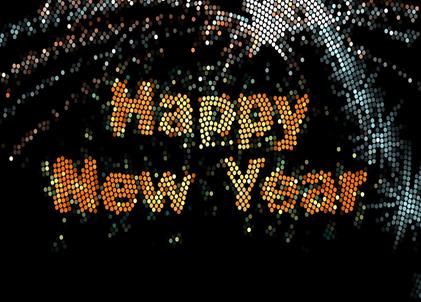 We hope that you all had a fantastic time celebrating the festivities, but Christmas is sadly over once more and a new year has begun! Here at UK Water Features we're looking forward to a new gardening season in 2017!
Are you looking to upgrade your garden, patio or decking this spring? We know it may still be too cold for a while yet to get out and enjoy time in your garden, but you may want to start planning for spring in advance, and select your new water feature with plenty of time to spare.

This year at UK Water Features we're excited to offer our customers some of the same fantastic products as well as some great new ones to come!
Our well stocked website has lots of wonderful water features for both inside and outside your home, to suit all tastes. They come in a range of materials such as cast stone, metal, polyresin, granite and marble so there's sure to be something in stock to suit all kinds of gardens!
Here is just a selection of our quality water features to give you an idea of what we have on offer for 2017…
Fancy upgrading your garden to add in a modern styled water feature? Here is a selection of contemporary pieces for your garden this year.

We love the unique design to this item, the Trento Zinc Metal Water Feature will certainly add an interesting focal point to your garden. Suitable for decking and patio areas too this feature is fully self-contained so is a quality, low maintenance feature anyone can enjoy!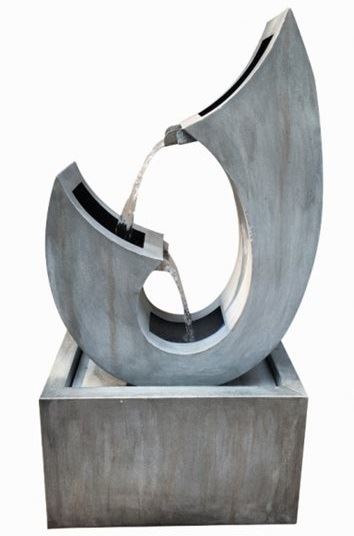 We're sure our Water Blade features will be as popular as ever this year. Made from grade 304 stainless steel they are a quality decoration that will be an impressive addition to any garden! Build in to any kind of wall or surface for a stunning, modern feature!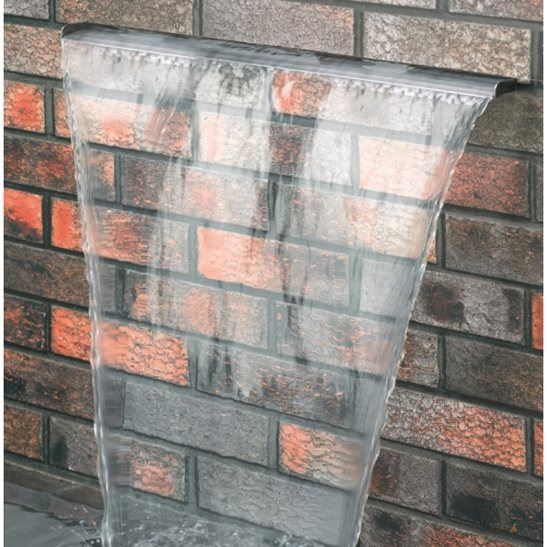 Another popular piece is our sphere water feature, available in a range of sizes such as our 30cm Stainless Steel Water Feature with LED Lights. Watch the water flow over the sides of the sphere, creating a tranquil atmosphere to enjoy in your garden this spring and summer. These kinds of water features can take only 5 minutes to set up, simply plug in and add water and you're ready to go! These are a very versatile decoration and can be enjoyed placed anywhere in your garden.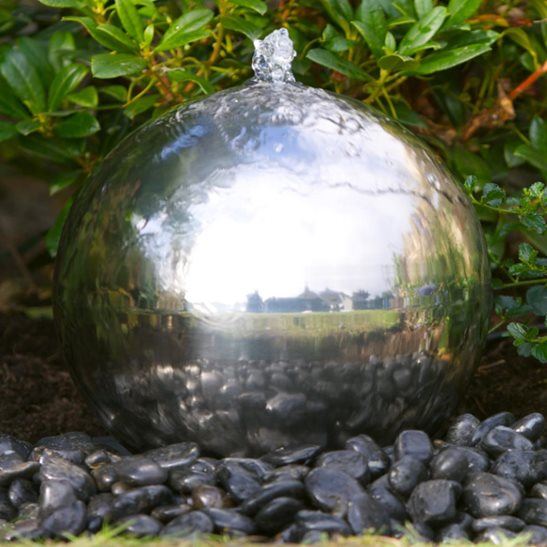 Our Copper Effect Leaf Water Feature is another great option for your contemporary garden. We love the way that the water cascades over the three leaves creating a soothing, trickling sound. This feature comes with built in LED lights meaning you are able to enjoy this feature during the day or night time. The copper colour of this feature will ensure your garden stays right on trend.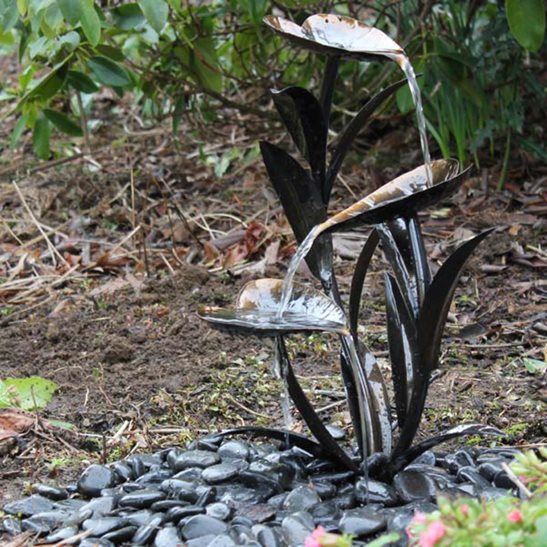 Keeping with the modern theme but taking a slightly oriental feel, these features will add a relaxing, eastern atmosphere.
Why not try our Oriental Buddha Water Feature that will add a stylish decorative piece to your garden as well as a relaxing water feature. We love the bronzed effect this feature has, it will fit in brilliantly to a modern styled garden. This water feature is suitable for both indoors and out so is perfect for the garden, patio or conservatory!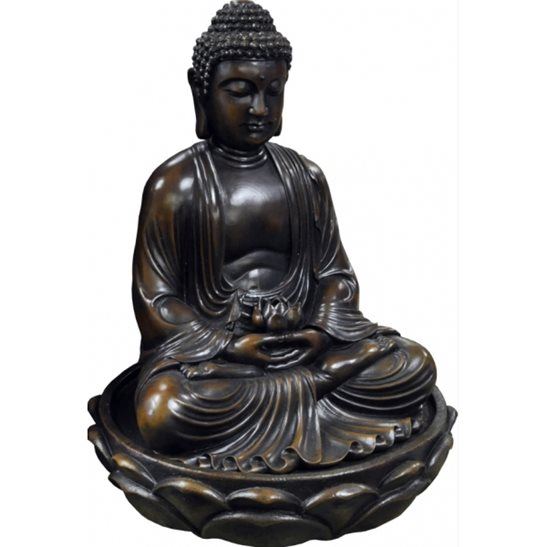 Our Large Grey Buddha Wall Water Feature is another stylish option for a contemporary garden. There is no need to connect this feature to a constant water supply as is it fully self-contained so is super easy to place anywhere in your outdoor space. It comes complete with a white LED light strip so can be enjoyed anytime of the day! You'll need no tools to assemble this feature and is very easy to install.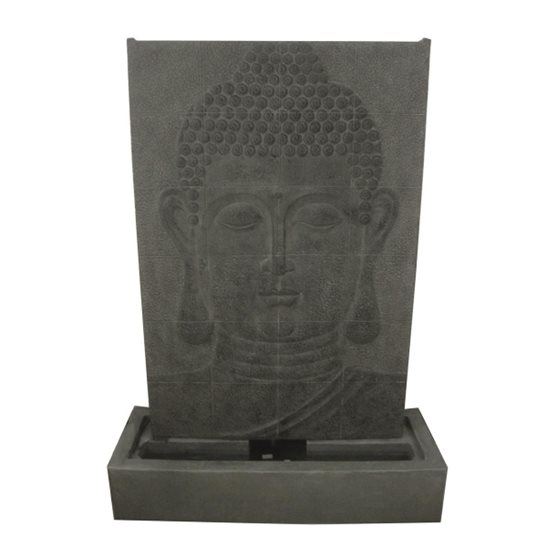 If you're looking for something a little more traditional, our cast stone water features will be perfect for your garden this year.
Add some fun and character to your garden with our Singing Birds Oval Fountain. It is a fantastic, quality feature that has built in LED lights, so it can be enjoyed anytime of the day or night! Ideal for anywhere in the garden, this feature will sit happily on a patio area as well as nestled into your garden plants and trees.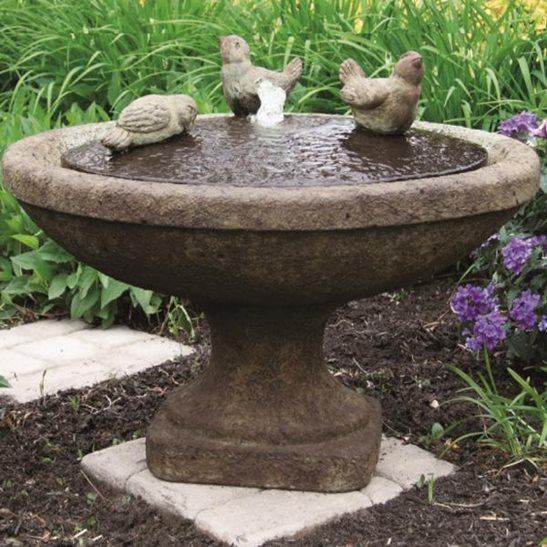 Finished in timeworn mountain stone, the Petal Pool Fountain Water Feature looks fantastic in any kind of garden, especially a traditional English garden. This is a fully self-contained feature that is low maintenance, so anyone can enjoy having a brand new feature in 2017!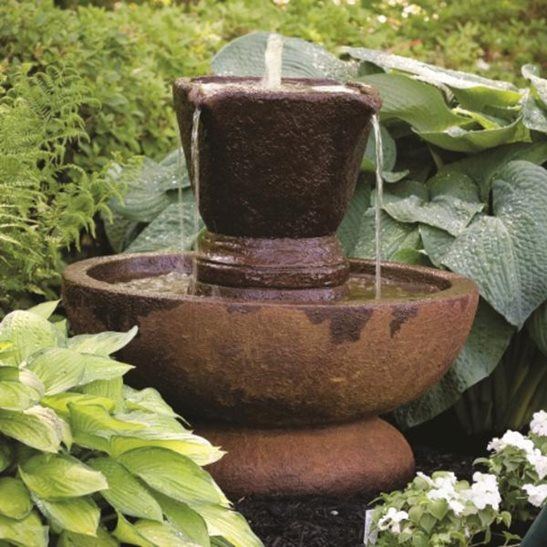 Ideal for a garden or paved patio area, our Graceful Dish Fountain is made from premium quality cast stone, and can add a stunning decoration to your outdoor space that will blend in perfectly to a traditional style of garden. This feature requires only basic assembly so you can be enjoying your feature in no time at all!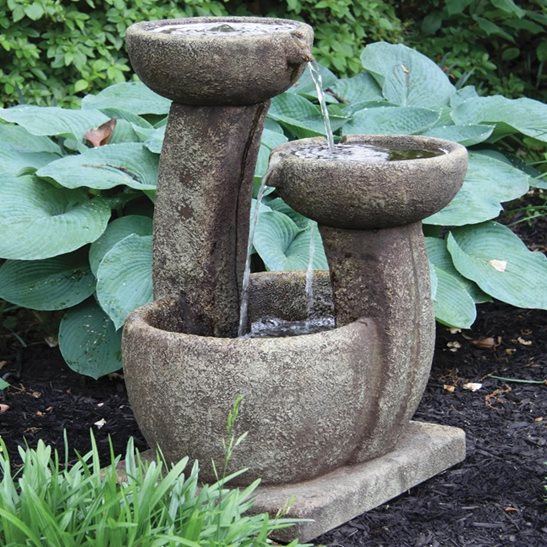 We have just shared a handful of our brilliant features in this blog. Don't forget our UK Water Features online shop also stocks a fantastic range of Indoor Water Features as well as Ponds and Water Feature Accessories.
We really are the one stop shop for all our water feature needs for the upcoming gardening season this 2017!
Now is also a great time to make use of our fantastic sale! Head over to our website to continue shopping our entire range of Outdoor Water Features where some of our fantastic items have 20% off!