Indoor Water Features Proving To Be An Ideal Christmas Gift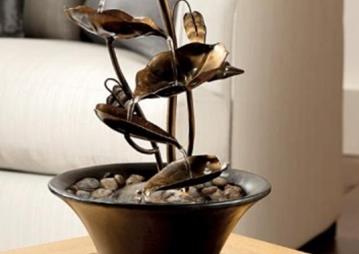 With only a few days left till Christmas, many of us are hitting the shops trying to pick up our last few remaining gifts for friends or loved ones. If you're struggling for ideas this year or if you are simply not a fan of massive crowds of fellow Christmas shoppers then why not consider getting something completely different this year, something that can be appreciated all year and something that wont break the bank.

An indoor water feature serves as an ideal gift for a friend or family member. Water features can not only be enjoyed outdoors, in fact indoor water features were one of our most popular selling products this year. As we all know the weather here in the UK is a little temperamental, so why not bring the joys and peaceful sounds of a water feature into your home.

There are so many styles and designs on the market today, from small table top water features to larger free standing indoor water features and there are even solar powered water features which are ideal if you have a conservatory or sun room.

Who ever you are shopping for this Christmas, there is bound to be an indoor water feature design to suit there tastes.

UK Water Features offers a wide range of water features including a vast selection of stylish indoor water features and fountains.