To Plant Or Not To Plant, That Is The Question...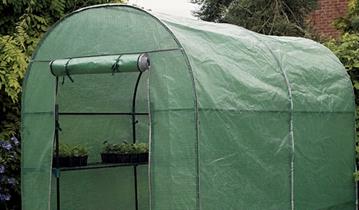 At this time of year many fledgling gardeners are facing uncertainty over whether or not to begin planting their crops for the year. As we all know one afternoon of sun does not a Spring make and frosts are still a threat, even snow is still not off the agenda fully. But that's no reason why you shouldn't start to make use of the mild days and sunny spells to begin working on your garden.
Once of the best tips for planting at this time of year is think hardy! Unpredictable weather means that holding off could see you missing a good few months' worth of growing, whereas a few low risk hardier varieties could see you enjoying an abundance of produce sooner rather than later.
Do your research, there are many websites full of expert advise to let you know exactly what you should be doing in your garden at the moment, and to allow you to plan for the coming weeks.
Have a browse of the seed stands and note their advised sowing period before selecting. At the moment you may wish to consider the following- carrots, beetroot, broad beans, salad onions, cauliflower, cabbage, Brussels sprouts, spinach, leeks, lettuce, rocket, coriander, mixed salad or stir fry leaves, radish, turnip, peas, lettuce and Swiss chard.
Think about covers like cloches and polytunnels to protect your plants so that a sudden frost has a minimal effect, just remember everything needs to be securely in place ensure a sudden gust of wind doesn't rob you of your hard work (and equipment!). Don't forget you can start off many of your plants in containers which can be moved to shield them from bad spells or started off in a greenhouse where they'll thrive.
Consider applying a thick layer of organic mulch around the base of vulnerable plants. Not only does it keep the roots warmer, it also helps to maintain the soil temperatures at a more even level and can reduce the chances of freezing at ground level. A cold frame is a valuable addition to any grower's garden and can either be purchased from approximately £35 or made from salvaged materials like old windows and timber or bricks, an ideal project for someone who loves the challenge of making something from nothing.
The bright spells of Spring sunshine and the showers can be a great start for your new season crops so choose wisely, arm yourself with the right equipment and beat the unpredictable UK weather by getting out there and making the most of the dry spells.