Topiary Balls - You never need to water your plants again!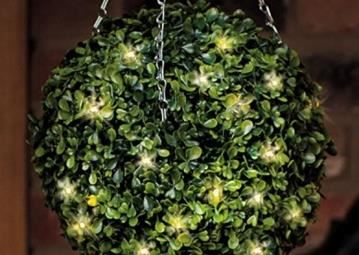 Topiary balls and trees are becoming a popular choice with home owners across the country.
Looking at topiary it is sometimes very difficult to actually determine whether it is real or not, and of course a big advantage is that it will never need watering.
Hanging topiary balls by the side of doors and entrance ways can instantly brighten up an outside space with minimum investment. Topiary balls start from as little as £12.95.
The majority of topiary balls come complete with a galvanised hanging chain which can be easily attached to a metal hanging bracket or even hung from tree branches.
To maintain the look of your new garden topiary we simply recommend a light rinse with a hosepipe every month or so. This will remove any layers of dust and dirt with ease without damaging the ball.
All our topiary collection is fully weather resistant and UV treated for added piece of mind.
Now you can also enjoy garden topiary at night with the addition of LED lights. Battery powered lights and solar powered both create a magical feel when wrapped around the balls and trees.
This article was written by Water Bucket Walter.