UK Water Features - Advantages and Disadvantages of Using a Solar Powered Water Feature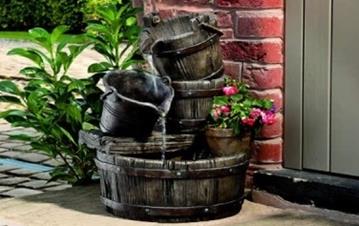 A lively, bubbling water fountain in your garden can enhance its overall appearance by several notches. While it is common to use electric fountains, there is a slow but firm preference for solar powered water fountains. They offer many benefits when compared to electric water fountains or water features that are driven by electricity.
The most obvious benefit is you don't have to pay additional energy costs. You also don't have to run electric wires across the garden which can not only be risky but also spoils the ambiance of the place. You don't have to call an electrician to set up the whole system of look after its maintenance. Solar powered water fountains come in a form that can be easily assembled. You can set up the fountain in no time without having any knowledge or electrical expertise.
Solar powered water features are driven by the energy from the the sun. They can be placed anywhere in your garden or yard where there is adequate daylight. The Photovoltaic cells used to power the fountain come in a panel and can either be mounted on a wall or installed on a stake to get the best results. Some solar powered fountains are also available as bird bath fountains in bronze and terracotta. Floating fountains are also available because their mobility is not restrained by ugly cables and wires used in an electric fountain.
One of the best advantages of using solar powered water fountains is that they are eco friendly. They do not emit any gas or fumes and are virtually free from maintenance except for the routine cleaning job. As no wires are needed to operate them, you can use it anywhere you want and not necessarily near an electric power source. Solar fountains are safer than electric ones because chances of mishaps or electrocution because of mishandling are not there.
There are submersible solar pumps or external solar pumps available. Submerged pumps are preferred because they operate noiselessly whereas the external pump will make a constant humming sound which can be an irritant.
In places not naturally blessed with adequate sunlight, solar powered fountains will not get charged adequately and can affect the performance of your water feature. There are brands with backup battery features but long periods of absence of sunshine can dry up the batteries pretty fast.
Quality solar powered water feature from reputable manufacturers can give you good value for your money while ensuring hassle free performance and durability.
UK Water Features has a huge selection of decorative garden water features, including the exclusive Tidal range of stainless steel water features.