UK Water Features - Aggregates Can Help Create a Low Maintenance Garden Quickly and With Minimal Effort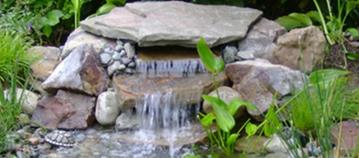 Are you looking for ways to enhance the looks of your garden within your limited budget? Adding aggregates in a creative way could be the best answer to your problem. Using decorative aggregates can give your garden that marvelous look and feel and reduce the maintenance tasks significantly.
There are many advantages of using aggregates in the garden. They can be used to improve the looks of the garden paths and make the patio areas stand out. As they are natural stones, they have a enduring look that other garden decorative made of concrete and fiber cannot achieve. Beach pebbles, natural stones, cobbles and even gravel can be used to give a creative look to the overall appearance of your garden.
A good quality aggregate can cut down your regular maintenance cost significantly. You will be spared the trouble of weeding and mowing of lawns regularly when you use quality aggregates. The overall savings in terms of time and effort can be quite a handful over a period of time. You will have enough time on your hands to sit back and enjoy the fruits of your labor.
Gravels and aggregates find best application in areas such as driveways and garden paths. You can use a variety of decorative aggregates to work some creative patterns and designs in the paths or just spread them over the wider driveway in a quick, effortless task. Patios are also a great place to aggregates and pebbles. Tiles, wood and concrete are clearly passé. Aggregates are the new buzz word for home owners, architects and designers.
When used in the right manner, aggregates can improve the looks of your plant and flower beds. The purpose is three fold. They mitigate the evaporation of moisture from the soil, they potentially reduce the chances of soil erosion during monsoon by keeping the soil together in a tight bind and they make your flower beds look unique and attractive.
Grass mowing can be a cumbersome task and we all that it has to be done quite regularly to keep the garden looking great at all times. If you have a larger lawn area, you can use your creativity to break the monotony of the continuous green patch and infuse an element of freshness. Decorative pebbles in multiple colors can be used in an innovative pattern to make your lawn come alive.
There are multiple uses of aggregates which can help you cut down on maintenance dramatically and give you enough time to enjoy the fruits of your effort.