UK Water Features - How to Take Care of Your Water Feature to Maintain Its Good Looks Round the Year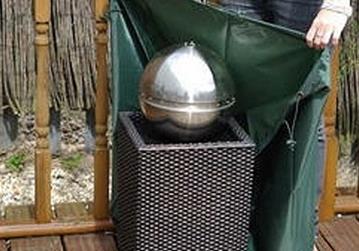 Maintaining your water feature is important to make sure that they look good at all times. There are conflicting reports the dos and don'ts of water feature care on the web. You must choose you maintenance plan with the help of experts to get the best performance out of your garden water feature.
The maintenance of your water feature in summer can be tough and slightly more time consuming than during other times. Regular and planned maintenance is the key to keeping your water fountain looking fresh, beautiful and attractive. You can use an aquarium vacuum on a weekly basis to remove dirt and debris.
The warmth of summer and abundant sunshine can encourage growth of plants around your water feature. While they add more greenery to your water feature, they can also create serious water problems if they are not maintained properly. Plants that are not pruned can create dirt and muck in the water and also cause growth of mold and mildew. Trimming and pruning plants will allow your water feature to run smoothly and will not denigrate the look of your garden.
There are tools such as algae stopper and UV sterilizers available which when used in your pond will help prevent the growth of algae and keep the feature in peak performing shape. It helps prevent slime build up and also eliminates bacteria. It is advisable to clear the strainers, skimmers and filters attached to the pump during the summer months because the heavy accumulation of dirt during these months can cause the pump to work overtime.
Algae control can be done using natural as well as artificial methods. However, natural methods are preferred as they give your water feature a healthy, balanced look. The use of chemicals and fertilizers must be avoided as much as possible because they can be harmful to the plants in and around your water feature in the long run.
Water evaporates faster during summer which means you have to top up your pond more frequently during these months to maintain the required water level and keep your water feature looking fresh. Your water feature needs good maintenance during harsh winters too because the winter frosts can be quite damaging. Fountain protection cover is the ideal way to keep the fountains and ponds protected from the winter elements.
It is important to change water regularly in all climates to prevent water clogging and slime build up which can mar the looks of your water feature.