UK Water Features - Solar lighting, a simple yet very effective way to light up your garden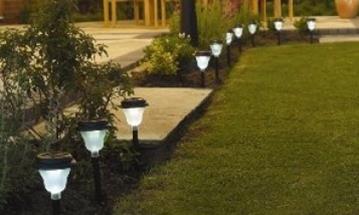 Solar lighting is the perfect solution for your outdoors if you are looking for an eco-friendly lighting option. Most of the developed countries are introducing solar public street lights in an attempt to reduce energy costs and to meet their ecological sustainability aspirations. Solar lighting is a safe, reliable and easy to install mode of lighting and therefore can be used ideally on roadways, sidewalks, stadiums, parking lots etc. Since solar lighting is a perfect landscape lighting solution, it can be used to illuminate your gardens in an effective and aesthetic manner.
Solar garden lighting
Solar garden lighting fixtures are gaining increasing popularity thanks to the growing realization among people regarding solar lighting as an earth-friendly lighting choice. Solar powered LED garden lights transform sunlight into electrical energy, which will be collected in resourceful rechargeable batteries. Solar lights feature a semiconductor light source called LED which is responsible for discharging visible light when conducting current. These solar garden lighting or LED garden lighting fixtures are available in a range of designs and varieties to suit different taste preferences.
Since Solar garden lighting products feature LED bulbs which have a much greater lifespan than conventional bulbs, they are indeed better than the conventional incandescent and fluorescent lighting systems. This factor helps you save replacement expenses and a great deal of inconveniences. LED garden lighting products help in diminishing energy consumption by as much as 80% when compared to their less energy efficient equivalents. There are numerous solar lighting manufacturers who supply solar garden lighting products in various sizes. There are designs that can enhance the style of the environment and some feature separate solar panels which can be positioned away from the feature allowing you to have lighting in an area which may not receive much daylight.
Solar garden lighting products offer an additional advantage of being far more flexible and wire-free. You just need to place the equipment in a spot in your garden which gets several hours of sun each day. The rest of the job of producing electricity will be done by the equipment itself. You are also saved from the inconvenience of concealing the wiring. Solar pathway lighting is ideal if you want to illuminate the garden trails. Solar spotlights are helpful in highlighting a unique or showstopper garden fountain or sculpture. Different ranges of underwater solar spotlights are also available from the manufacturers and suppliers of solar lighting products.
Solar garden lighting and LED garden lighting fixtures are the best option if you want to enjoy your garden landscape at night without be bothered about the electric bill. They also minimize impacts to the global environment and your own property in effective manner.
UK Water Features has a wide range of garden lights, including an impressive range of deck lights and post lights as well as the new range of mains lights.