Here at UK Water Features we really do care about the environment...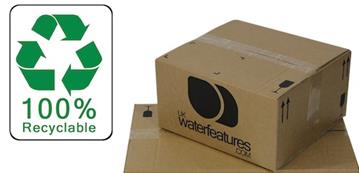 Our lives are full of cardboard, it seems to come in almost everything we buy. In the UK as a whole we produce 8 million tonnes of cardboard packaging each year. This is an average of 140 large boxes for every household in the UK.

After listening to feedback from customers have now introduced a new range of eco-friendly 100% recyclable cardboard packaging. Many local councils provide recycling containers which this packaging can now be placed into.





If you have purchased an item from our website and have any feedback about the packaging please email info@ukwaterfeatures.com.


UK Water Features has one of the largest collections of water features and fountains, all available for nationwide delivery.