UK Water Features - The Cretan Pots History & Modern Day Use as a Water Feature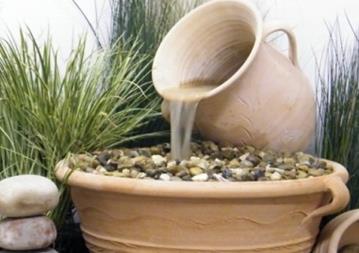 After a major economic decline hit the great island known as Crete between 800AD and 960AD, this caused a reduction in the manufacturing of almost all types of goods including pottery. It is during this period that the Cretan pots which were unglazed and undecorated were produced. These pots had thick sides and were polished with a stone while it was still wet.
From the 10th to the 12th century, the rural pottery industry produced earthenware that was similar to that of the previous periods. However, what was different was the increasing use of glaze finished pots which were decorated with the theme of those times. Cretan pottery were the once that has been fired but not glazed and these pots can be traced to the 12th century. There are some refined forms of these pots seen in the later part of the century.
During the period 1300 to 1460, local production of pots diversified into a large variety of decorations and forms. Cretan glazed ware flourished during this period. The domestic ware had geometric patterns, floral designs and spirals. A delicate incision of the pot over the slip and the colour which became darker after firing, was a common pattern seen in the Cretan pots of the era.
From 1460 to 1650, a major resurgence happened in the pottery production which saw large forms comprising of storage jars and pots being used. The designs were mainly decorative bands. However, from the mid 17th century to the end of the eighteenth century, production of Cretan pots declined significantly and was limited to items of essential use. Glazed ware was not produced any more while other types of pottery were present in the simplest of forms.
Today, Cretan pot water features are a popular way of improving the look of your garden. You can find some exquisite and frost proof handmade terracotta pots with decorative stones or pebbles which can be installed in your garden quickly and without much effort. Cretan pots are unique because they are hand thrown on a potter's wheel with each potter using their own character and idea of pot making. You can be sure that no two pots will be the same; exclusivity is assured. The Crete clay is high in mineral content and adds to the strength and durability of the pots.
Many Cretan pot water features are self contained and are made of the best quality minerals that were used way back when they first originated. All you need to do is unpack, assemble as per instructions, fill the pots with water, plug in and sit back and enjoy the unique arrangement.
UK Water Features has a wide range of decrative garden water features inclduing the UK Water Features exclusive Tidal range of stainless steel water features.