UK Water Features - Using Feng Shui with Indoor Water Feature for Enhanced Positivity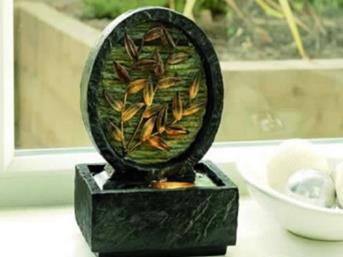 Nothing can be more relaxing and peaceful than to hear the sound of water flowing gently in an indoor fountain. If there are small green plants and shrubs around the fountain, they can enhance the looks of the room significantly. Feng Shui experts suggest that such as arrangement has an element of prosperity attached to it too. An indoor water feature can be a great way to make your room more look relaxing and peaceful.
According to the philosophy behind Feng Shui, features such as fountains, mini ponds, aquariums and waterfalls placed in the right position and direction in your home or office can attract good luck and blessings. Flowing water is a sign of life and helps attract positive energy. They create a feeling of energy and enthusiasm. They help balance of cancel out the effect of negative ions in the room.
It is a well known secret among practitioners of the Chinese art of Feng Shui that waterfall and an indoor waterfeature can promote the feel good factor. It improves alertness and the ability to concentrate. They are mood elevators and are known for their ability to enhance the quality of our professional and professional life. An air conditioned room can do with an indoor water feature because it improves the humidity in the air and enhances air quality.
The right placement of these features is equally important to get the best results. Different directions are associated with different aspects of our life. If you are looking for a good life partner, south –west direction is the ideal place to keep the water fountain or pond. For better luck and prosperity, a water feature in the south-east direction will improve your chances of attracting wealth significantly. North is the direction for career enhancement while for students focusing on betterment in their studies, north-east is the perfect direction to place your water feature.
There are many enhancements you can consider adding to your water feature. Addition of floating candles or lights can make the feature look great at night in a dimly lighted room besides helping attract positive energy in large measures. Creative use of mirrors behind the water feature can help multiply the energy output from the arrangement. Make sure your fountains do not have sharp edges. Rounded corners are recommended for indoor fountains. If you have a square shaped water feature it can be placed in a corner of the room. Round shaped ones are perfect for keeping in the center.
UK Water Features has a wide range of over 1000 water features including a large range of decorative indoor water features as well as the exclusive Tidal stainless steel water features range.