Winter Weather Strikes The Entire UK With A Blanket Of Snow & Ice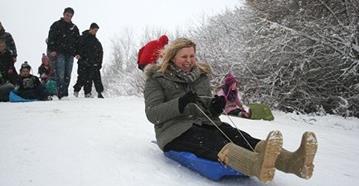 Christmas is over, and we unfortunately did not see any lovely white Christmas however we have been blessed with some very cold weather over the last week which has caused chaos up and down the country. The entire UK is under a sheet of snow this morning as a winter cold front sweeps in.
Many areas of the UK have woken to the site of up to a foot of snow which has caused schools up and down the country to close for the day as a safety precaution.
According to the Met Office the weather is set to be around for the rest of the week, with more snow scheduled later on in the week. Temperatures could reach as low as -14°C tonight as the UK prepares for some harsh winter winds.
The Met Office has advised that all commuters should have a winter snow shovel in their vehicle to avoid any risk of getting stuck in the snow.
On a much lighter note, schools up and down the country seem to be closing their doors for the day due to heavy snow. This means that it' time to dust of those snow sledges and hit the slopes.
We hope that everyone has safe commute to and from work during this spell of cold weather. Don't forget to grit those paths and driveways as soon as possible and on a frequent basis to avoid any injuries.
This article was written by Water Bucket Walter