An Exclusive Range Of Stainless Steel Water Features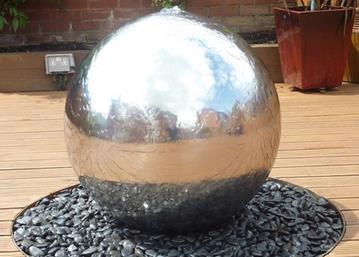 We're all very excited here at UK Water Features as we can now announce our exclusive range of Stainless Steel Water Features. Tidal water features is an exclusive range of affordable and luxury water features that you will not find anywhere else on the internet.
The tidal range includes everything from spheres, cascades, water blades as well as some beautiful indoor water features which can be enjoyed all year round.
Over the past few years our most popular selling water feature has been the 50cm and the 75cm stainless steel spheres. These are both ideal focal points in any garden whether large or small the sphere is certain to add an elegant touch to your garden.
For your convenience all Tidal water features which require a water pump and lights have all been combined into jus the one low voltage plug which makes it all that much easier to set up your new water feature. Here at UK Water Features as you can imagine we are all environmentally conscious therefore the entire Tidal range is environmentally friendly and uses a little as 15 watts of power.
Setting up and installing your new Tidal water feature is very simple, here is a quick guide on how to install the 75cm stainless steel sphere.
If you have any questions about any of our new Tidal range please do not hesitate to get in touch with us either by giving us a call on 01226 388 889 or emailing us at info@ukwaterfeatures.com