Solar garden lights, brighten up paths and borders with our new range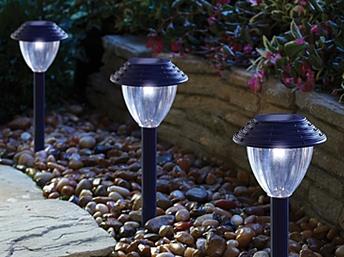 Solar garden lights are an ideal way to brighten up paths, borders and driveways and we are pleased to have an even bigger selection of lights for the 2014 season.
Smart Solar is the most recognised brand within Europe. All solar lights within their range are of the finest quality, each light goes through rigorous testing and only the best make the grade each year.
How do solar garden lights work?
During the day solar lights build up power from the sun then come to life at dusk automatically turning on, for upto 8 hours during extended hours of sunshine.
Solar powered lights can either have an integral solar panel or separate solar panel with a cable leading to the first set of lights. The main advantage to have the solar panel seperate is that this can be positioned in an area of the garden which gets direct sunshine and the lights in an area which maybe does not get as much sunshine.
Once charged how long do solar lights normally stay lit for?
If solar lights are charged for a full day in direct sunlight the lights should operate from dusk for at least 6 hours. The majority of our solar lights do work for upto 8 hours due to advancements in solar technology.
All solar powered lights come with built in re-chargeable batteries which can easily be changed if the brightness does begin to decrease (this is the case with anything battery powered). Most re-chargeable batteries can be used in the lights, we would always advise using a branded battery for maximum results.
Lets take a look at some of the new solar lights in our range this season...
| | | |
| --- | --- | --- |
| | | |
| | | |
| | | |
| | | |
Solar garden lights also make great gift ideas, perfect for someone who enjoys spending time in their garden.
Delivery is free on all our solar lights and other garden items when you spend £40. Any order under £40 and there is a small charge of £4.95 to cover our postage and packaging costs.