Tidal Water Feature Favourites Back In Stock!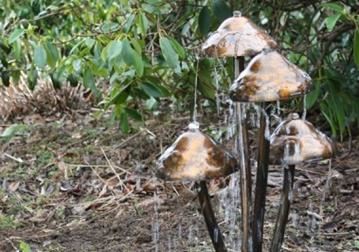 After demand far exceeded our stock levels last year we are pleased to announce the arrival of new stocks on three of our best selling Tidal Water Features.
The 1.74m Giant Cascade Water Feature is one of our largest self contained stainless steel water features. Water flows down the polished grade 304 (marine quality) stainless steel front into the self contained reservoir below. This water feature is also popular with restaurants, pubs and offices across the country.
If you have a more traditional garden the Copper Effect Leaf Water Feature and Mushroom Water Feature are both proven customer favourites.
Both water features need to be placed into the ground and have a hidden water feature reservoir. This can be easily disguised with either pebbles or decorative aggregates.
Our 'Mushroom Water Feature'...
And our 'Copper Effect Leaf Water Feature'...
All our water features come complete with everything you need in the box, this includes a quality pump with upto 10 metres of cable and when stated lights to enhance the feature at night.
Both the Mushroom and Copper Effect Leaf water features are shown with black polished pebbles scattered around the base, these can now also be purchased from our Tidal range.