Tidal - Modern Stainless Steel Water Features, Exclusive to UK Water Features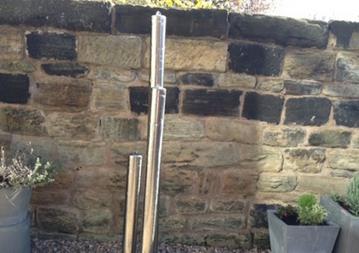 Here at UK Water Features we work closely with factories and suppliers across the globe to ensure we offer our customers the finest quality fountains and water features at affordable prices.
The Tidal range of water features is exclusive to ourselves and a concept thought up by the business owner, Eddie Riby in 2011.
Water features include stainless steel spheres, tube water features, copper effect fountains along with popular indoor tabletop fountains which are perfect if you are looking to add a sense of calm into your home, or a unique gift idea.
All the water features in this range come complete with everything you need to get up and running. The outdoor fountains come with a low voltage energy efficient water pump, lights (on most items) and a lengthy 10 metres of cable to run to your nearest electric point.
The stainless steel fountains are all handmade in our own factories by skilled craftsmen from the finest quality grade 304 stainless steel. Online there are many companies selling similar products but manufactured from a lesser grade stainless meaning that the fountains will begin to 'rust' overtime. We can confidently shout about the superior quality and with a simple clean every couple of weeks a stainless steel water feature purchased from UK Water Features should look like new for years to come. Stainless steel cleaning cloths can be used to wipe down the stainless, we do sell these online or you can purchase from most major supermarkets for a couple of pounds.
When installing a water feature we would advise to plug the transformer into a RCD socket for added piece of mind. If you do not have power outside our easy to install Twin RCD Adaptor Kit is ideal allowing you to power up to two electrical items.
The photo below shows a 50cm Stainless Steel Sphere Water Feature installed by a customer in 2008, five years later and the item looks great with no blemishes or rust patches.
We have also had another photo sent in from a customer who installed the Large Stainless Steel Tubes Water Feature into his garden almost four years ago, again testament to the quality of our fountains.
If you are looking to install a stainless steel water feature into your garden and have any questions our friendly Yorkshire based team are here to help. During office hours you can use the on site 'Live Chat' button towards the bottom of your screen or call 01226 388889. We are here to help and love chatting to our customers.
UK Water Features exclusively stocks the Tidal range of Stainless Steel Water Features along with resin water features, solar water features, Cretan pots and oak barrel water features. Orders over £40 are delivered free of charge across the UK.