UK Water Features - Ideal Water Feature to Make Your House Even More Beautiful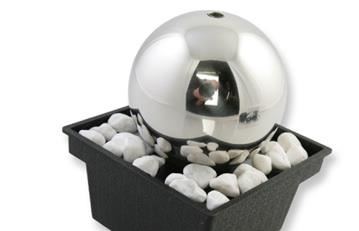 People would go to any extent to make their house beautiful, they spend like anything so that their home decor looks different from others. If you belong to the same category then Indoor Water Feature is just the right thing for you. Usually water feature are placed outdoor, in the lawn, kitchen garden or in the pool but placing it inside the house would just add charm to your furnishing. It offers a very soothing ambiance making your home space relaxed, calm and comfortable. The sound of flowing water takes you in a dream land away from all the hustle and bustle of life. It is often said that water has a healing properly for which it is a part of various physio therapies so definitely it will make wonders in the house. With so many choices available you can effortlessly choose the shape, size, design, or material depending upon your taste. Indoor fountain is the demand of the day and they look absolutely beautiful at night if decorated with lights and sparkles.


Convenient water features

One doesn't need to worry about the size of the house if you plan to buy an Indoor Water Feature, you can opt for Table Top Water Feature that are conveniently designed to fit on a small table or a coffee table. Nothing could be beautiful than a small stream of water pouring in a designer bowl or coming down a cascade through small rocks making that amazing voice which will always remind you of mountains, rivers and bring you closer to nature.

Finding the Best Indoor Fountain

It is always important to do a market research before buying any product and its the same when it comes to Indoor Fountain. Internet is the best option to go through the models and prices available. The only disadvantage here is that you cannot touch or feel the product but still you can always get an idea about the price range which will help you bargain when you make the real deal. Still there are companies that offer you what they show on the sites and you get what you see. So get that modernized touch of water and enhance the overall appearance of your house. You come across Indoor Water Feature in hotels and restaurants and they look completely mesmerizing. Now you can get the same effect in your own house.
UK Water Features is home to a wide range of water features in various shapes, sizes and styles inclding the popular stainless steel water feature range from Tidal.